I once worked for a district in which I traveled between 3 different schools.. I spent most of my time at an elementary school but also spent a day at a middle and high school for students with behavioral and emotional difficulties.
I'll never forget the look on my high schooler's face on that first day, when I entered with my cheerful elementary school voice and explained our activity. Needless to say, I abruptly learned I needed a completely different game plan with my older students
Engaging older students doesn't have to be stressful. Today I'm sharing some meaningful activities that did the trick for me (and actually made it fun!)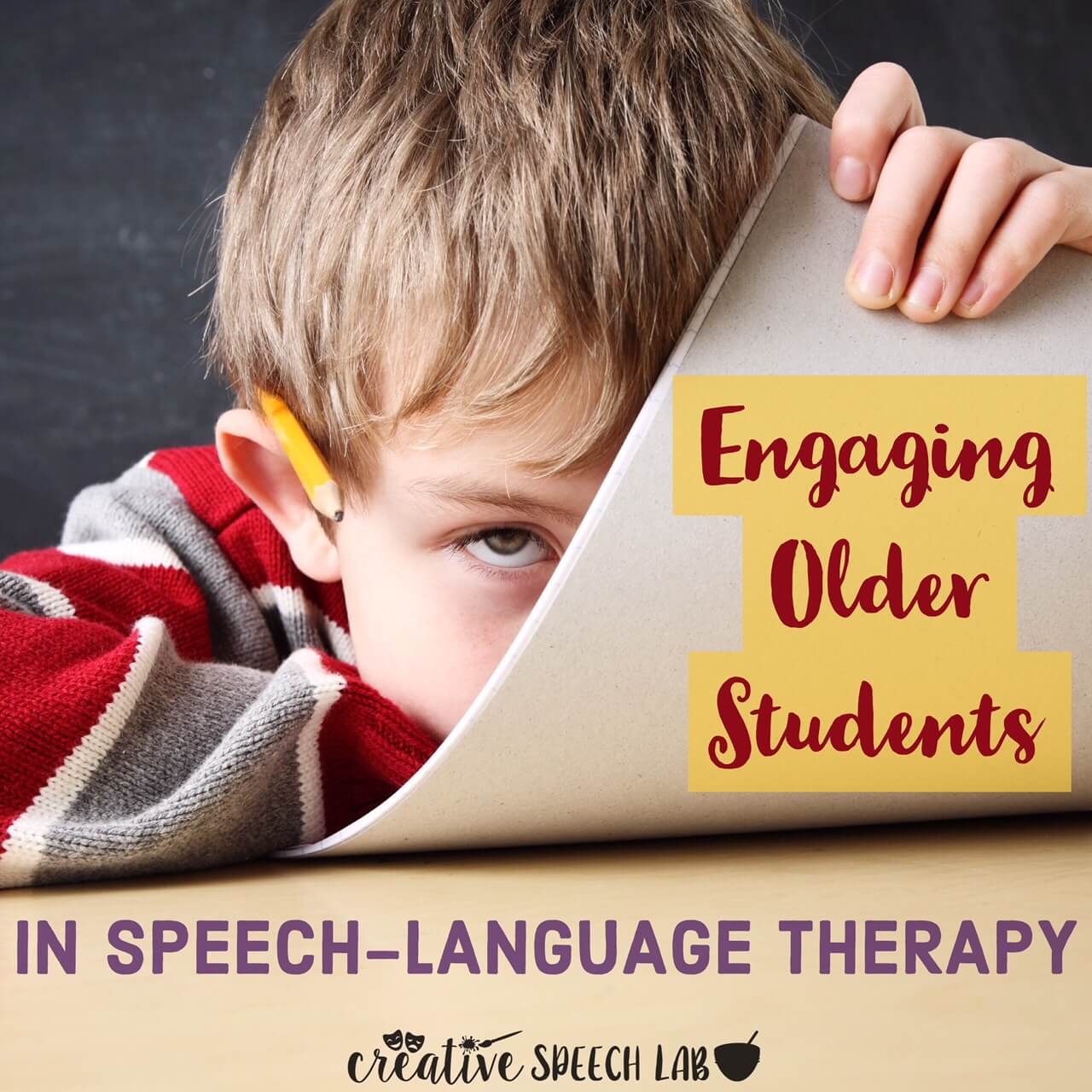 In a nutshell, make it personal and experiential. 
Now let me help transform your overwhelmed feelings into excited and inspired ones!
(That's how I feel about it now. I love this age!)
Making It Personal
Careers and Dreams
I often sit down with my students and ask them what they'd like to be when they grow up. Most have some grand plans and, for those students who don't, I simply engage them in some light career research (which involves a lot of WH questions!)
(On an aside, if you asked me what I wanted to be at that age, I might have said a singer or a dolphin trainer…but that doesn't really matter here!)
Then, we discuss their reasons for their career goals and, perhaps more importantly, what skills they will need to achieve them.
Every single (albeit distant) career goal I've ever discussed with my students linked back to speech, language or communication goals.
This discussion allows for an easy segway into a talk about specific speech and language goals. This is that lightbulb moment when students connect what we're doing to a bigger purpose and that is incredibly valuable.
Bringing their lives into your lessons
I once worked with a 6th grade student who transferred to my school mid-year after being expelled elsewhere. This child experienced a significant degree of trauma in his early years. I liked him immediately.
During our first session, we played a virtual basketball game (his favorite sport) and simply asked and answered questions about one another to build rapport. Then we got to work.
One of his goals was to work on context clues so I threw together some context clue sentences about him.  I knew his favorite sports and least favorite foods etc. This made it easy to draft up a personalized worksheet and he couldn't have been more motivated (or felt more special!)
Avoid materials with "babyish" artwork
Give an older student an article about the zoo and she might be interested.  Give her one with babyish giraffes and lions and you might get an eye-roll. Older students are all about how things look (and yes, they do judge a book by it's cover!) When I created my Articulation Theatre for Group Therapy Set with Northern Speech Services, we were extremely mindful of this as the artist created illustrations that were quite "cool!"
Choose materials they would find interesting
I like manatees. I do. But my older students don't always look thrilled when I hand them a nonfiction passage about them.
There are many (wonderful) nonfiction passages that don't always capture the interest of our students. While these passages contain valuable information and target skills appropriately, if students aren't engaged, it's difficult to really make a mark.
I like using kid-friendly news articles (like Scholastic) because they are pertinent and engaging.
I also created my own High Interest Nonfiction Passages with Optical Illusions and my students have been totally engrossed.  I'll admit, I was pretty fascinated when I created this resource, which is a good sign!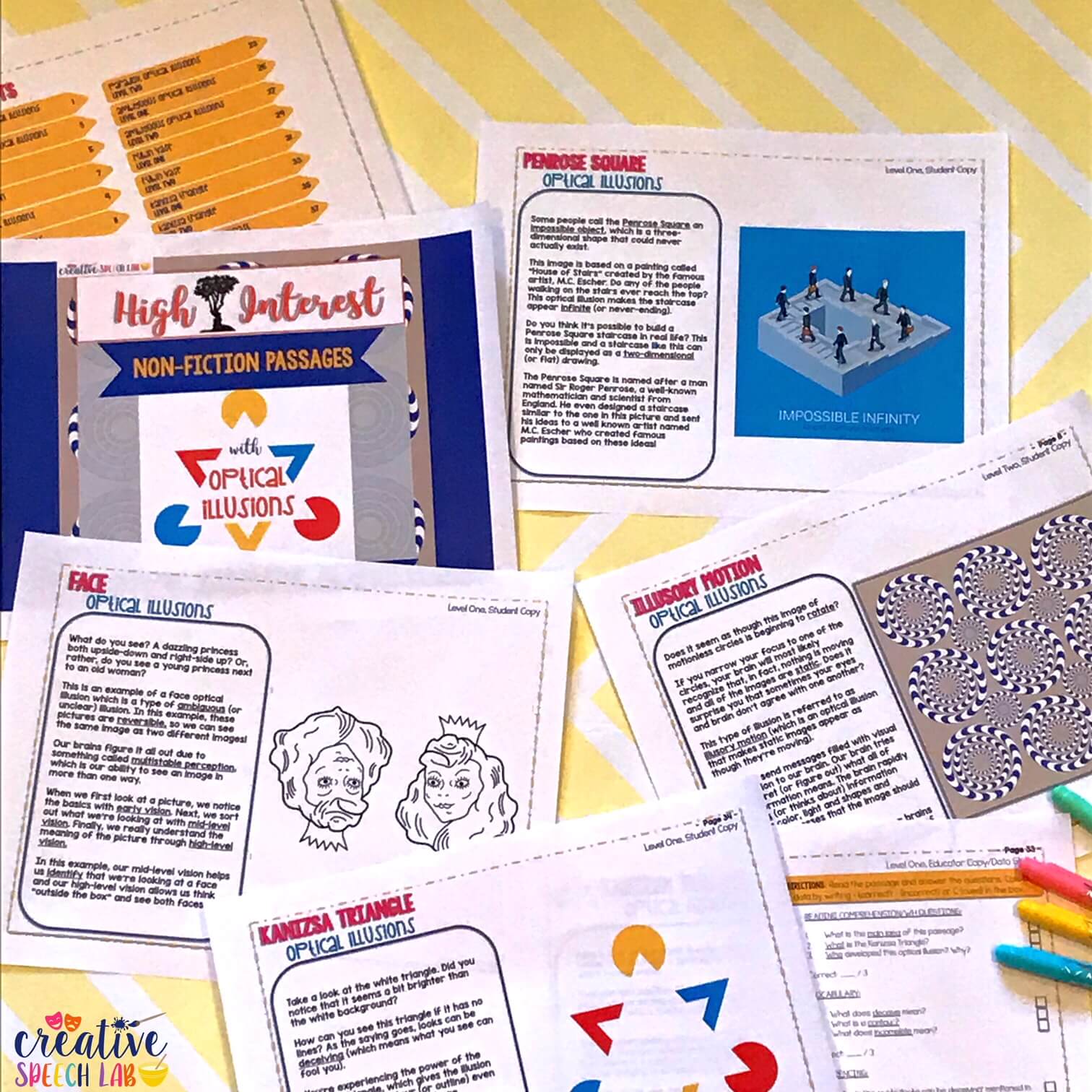 Making it Experiential
So, what do I mean when I talk about making lessons experiential? Experiential lessons incoporate actual experience that make the learning target motivating, meaningful and memorable, (which I lovingly refer to my "Rule of the 3 M's").
Check out some simple yet powerful experiences I use to target inferencing with my older students HERE
Virtual Field Trips
Did you know there are a wealth of exciting virtual learning opportunities online? One of my favorite ones is Skype for the Classroom which allows you to visit places live! You can also interview fascinating figures and, as I'm sure you can imagine, the speech and language possibilities are abundant.
One of the things I most enjoy about virtual field trips as an educator is that you can extend the trip over time. I created my own Virtual Field Trip to the White House and my students loved getting an inside visit into the Situation Room, navigating the halls through a camera and map and a whole lot more. Why not embrace the multimedia technology at our fingertips to make learning motivating, meaningful and memorable in such a dynamic way?
Party Planning
Raise your hand if your students have ever asked for a par-tay in the speech room?
A lot goes into planning a party and it doesn't have to be complicated. It doesn't even have to be about food (although I love sending fun and seasonal Speech and Language Family Recipes for homework and have asked kids to bring things in from time to time!)  Whenever food is incorporated, I'm always extra careful about food allergies.
Plan the who, what, when, where, why and how of the party. Prepare lists in categories. Practice social skills when inviting and hosting. There is so much you can target and a speech party makes the ultimate experiential learning reward!
Choose your OWN Path
Personally, when I think older students, I think empowerment. They want to make choices so…why not let them?
Did you read "Choose Your Own Adventure" stories as a kid? I loved them! I created illustrated You Decide Stories targeting language, inferencing and social communication skills for any touch screen (or it can be printed!) and my students literally can't get enough. With this crew, choose your own path is the way to go! Let them feel in charge (even though you really are!)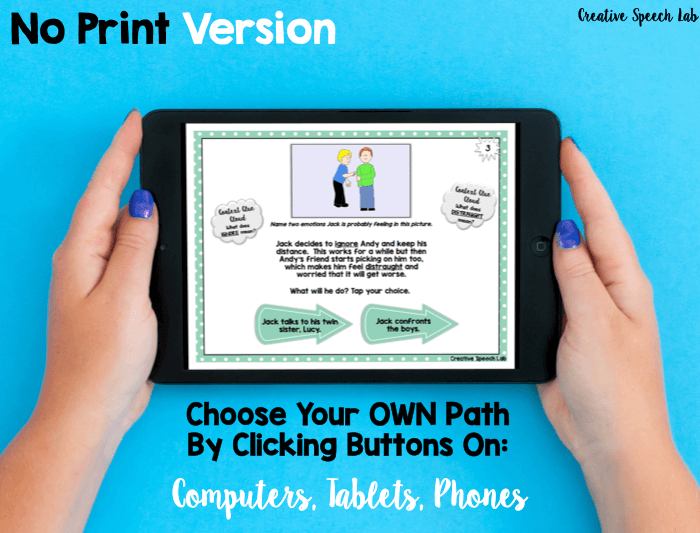 If you haven't already noticed, I'm rather passionate about making learning an experience that is motivating, meaningful and memorable so that students can truly internalize (and then generalize) learning targets. I actually planned out and photographed over 40 of these innovative interventions and, if you'd like to check them out, you can receive 0.3 ASHA CEU's! Click HERE to see a sample of the course!
I hope this has inspired you to try a few new things with your older students. If you have any of your own tips and tricks, I'd love to hear about them!