What:
triggers emotion…
inspires us to move…
gets stuck in our heads and…
brings us together?
I'm sure you guessed it: music.
Not only does music have the ability to do all of the above, it can also serve as a powerful tool in speech-language therapy. Today, I'm here to share some of the ways I use music to help my students.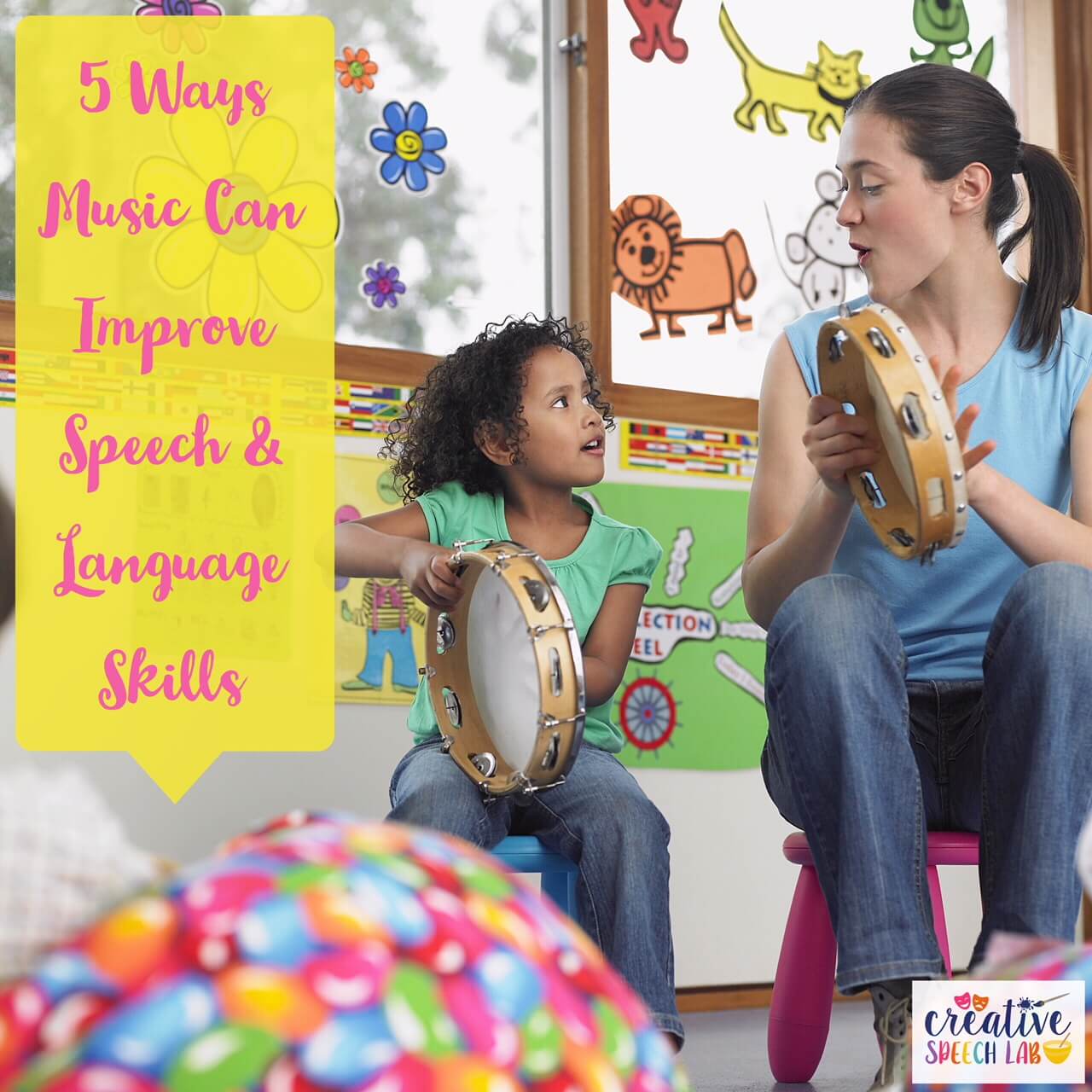 First lets look at the research.
Several studies (cited below) suggest that musical participation may foster vocabulary development as well as specific emergent literacy skills relevant to our practice as speech-language pathologists (SLPs) including receptive vocabulary, comprehension skills and phonological awareness.
An additional study found that children with speech-language impairments secondary to autism spectrum disorder (ASD) displayed improvements in speech production and functional vocabulary following a music intervention.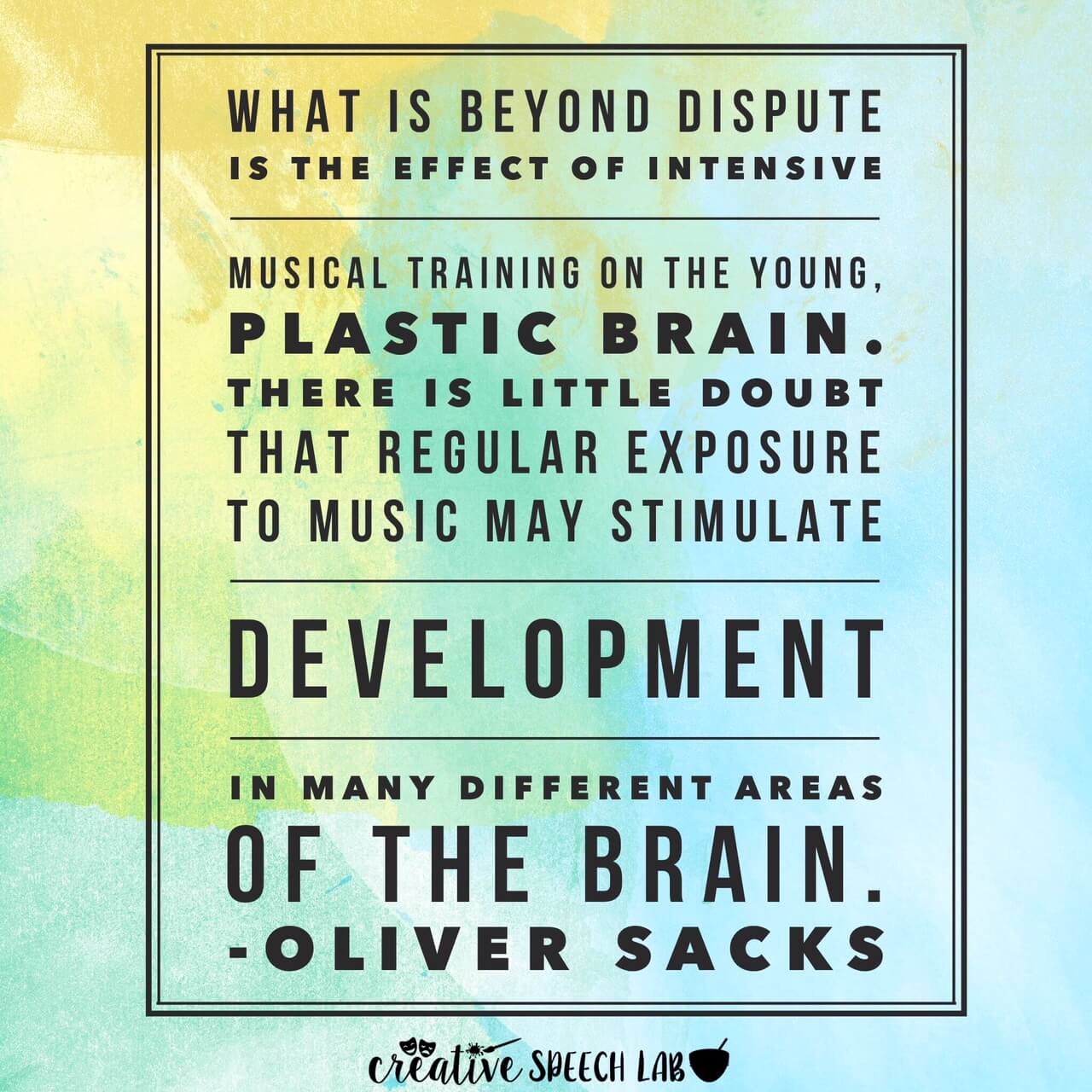 Here are 5 ways I use music in speech-language therapy:
Multisyllabic words: Many children experience difficulty producing words containing multiple syllables and I've found a musical remedy that does the trick. Simply make each syllable a different musical note. This increases students' awareness of each syllable, making it much easier for them to echo.
Articulation: Choose songs that contain words and sounds your students are working on. Here are some examples of popular children's songs and a breakdown of the sounds they contain:

"Old McDonald Had a Farm" frequently repeated sounds:

Vowels: /i/, /ai/, /ou/
Stops/Plosives/k/,/p/, /g/, /b/
Nasals: /m/, /n/

"The Wheels on the Bus" frequently repeated sounds:

Stops/Plosives: /b/, /t/, /d/, /p/
Nasals: /m/, /n/
Affricates: "sh"
Glides: /r/

Basic Concepts: Physically act out songs to assign meaning to language. There are many songs that focus on specific language concepts (and oftentimes a simple Google search containing the skill you're targeting along with the key words "children's songs" can generate a helpful list of easily accessible, free songs). Some specific songs I've used include:

Hokey Pokey: right, left, around, in, out (try this one without giving students a visual model)
Head, Shoulders, knees, toes: body parts
Wheels on the Bus: around, up, down, back etc.
Itsy Bitsy Spider: up, down

Prepositions and Pronouns: I like to change things up and embed prepositions or pronouns into songs like "Where is Thumpkin." For example:"Where is Thumpkin? Where is Thumpkin?on my head / behind our seats / above your nose etc."  See how these concepts have been brought to life?
Inferencing: Students are often very motivated to dig deep into popular song lyrics to make inferences. A major perk to this is that these songs often repeat over and over again in their heads which further solidifies the learning experience. As students study the lyrics to well-known songs such as Disney's "Let It Go," they will make inferences as Elsa sings "not a footprint to be seen" and "the wind is howling like this swirling storm inside."
What I love most about incorporating music into speech-language therapy is that it automatically makes learning targets motivating, meaningful and memorable. Students will repeatedly recall musically-based lessons in their memory, which helps them to internalize the skills we're teaching them. This form of experiential learning has the potential to make a real impact.
Do you ever use music in your sessions? If so, let me know! I'd love to hear about it!
References:
Anvari, S.H.,Trainor, L.J., Woodside, J., & Levy, B.A. (2002). Relations among musical
skills, phonological processing, and early reading ability in preschool children.
Journal of Experimental Psychology, 83, 111-130.
Brown, E.D., Benedett, B., & Armistead, M.E. (2010). Arts enrichment and school
readiness for children at risk. Early Childhood Research Quarterly, 25, 112-124.
Graham, R.M. & Beer, A.S. (1980). Teaching music to the exceptional child. Englewood
Cliffs, NJ: Prentice-Hall.
Harris, D.J. (2011). Shake, rattle, and roll – can music be used by parents and
practitioners to support communication, language and literacy within a pre-school setting. Education 3-13, 39(2), 139-151.
Hoshizaki, M.K. (1983). Teaching mentally retarded children through music.
Springfield, IL. Charles C. Thomas.
Moreno, S., Bialystok, E., Barac, R., Schellenberg, E.G., Cepeda, N.J., & Chau, T.
(2011). Short-term music training enhances verbal intelligence and executive function. Psychological Science, 22, 1425-1433.
Phillips, R.., Gorton, R., Pinciotti, P., & Sachdev, A. (2010). Promising findings on
preschooler's emergent literacy and school readiness in arts-integrated early childhood settings. Early Childhood Education Journal, 38, 111-122.
Wandell, B., Dougherty, R.F., Ben-Shachar, M., Deutch,G.K., & Tsang, J. (2008).
Training in the arts, reading, and brain imaging. In C. Asbury & B. Rich (Eds.), Learning, arts, and the brain: The Dana Consortium Report on arts and cognition (pp. 51-60).
Zoller, M. B. (1991). Use of Music Activities in Speech-Language Therapy. Language
Speech and Hearing Services in Schools, 22(1), 272. doi:10.1044/0161-
1461.2201.272