Is there anything better than the face of a child basking in kindness? Have you ever been on the receiving end of a random act of kindness?
Today, Jessica from The Speech Space shares thoughtful tips for making kindness a part of your daily experience. You also won't want to miss her incredible 30-Day Random Acts of Kindness Challenge Freebie!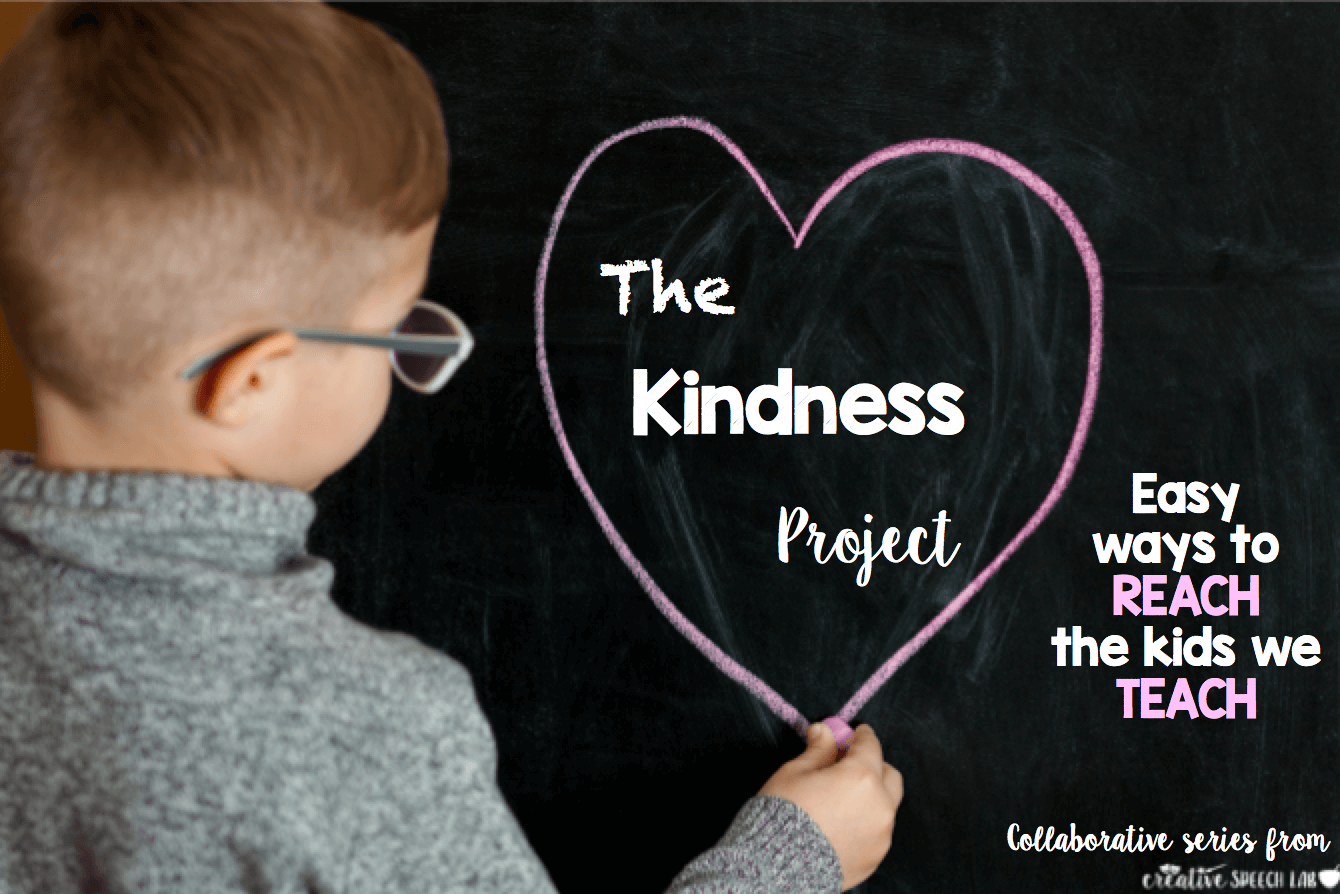 Hi there, I'm Jessica from The Speech Space and I'm so honored to be a part of The Kindness Project. I've been following along and have been blown away with the previous posts. If you haven't checked out the previous posts in this series, you'll definitely want to go back and see all of the wonderful words of wisdom (and great freebies!) these ladies shared.
Wouldn't the world be a better place if we could all just be a bit more kind? I think it's easy to get caught up in the fast-paced society that we live in and forget that those sweet little children coming to us for help often need more from us than just speech therapy. They also need role models, encouragement, friendship, and nurturing.
When we practice the skill of empathy that we so often teach, we begin to see things in a very different light. We see the innocence of the child sitting in front of us, rather than a checklist of modalities to meet a specific goal. We realize that they might be treated differently by their peers or might not have the voice to articulate their feelings in the way that others can. It can be a lonely world out there when you feel like that.
When I was younger, I found this little purple book in a gift shop that was all about random acts of kindness. While that book is long gone now, what I do remember is how it made me feel after completing some of the suggested ideas. I felt uplifted, empowered, and like I was making positive contributions to society.
With that little book in mind, I created a 30-day kindness challenge for your students. Rather than just saying that we will try harder to be kinder, this challenge offers practices that you can put into place each day to cultivate kindness in your speech room or classroom. The tasks focus on ways you can show kindness to yourself and others. Hopefully at the end of the challenge, your students will be more comfortable being kind to themselves others as well. You can grab the freebie here, in my TpT store.
Jessica Cassity, M.S., CCC-SLP is a speech-language pathologist in Maryland. She is the founder of The Speech Space, which specializes in creating no print materials for busy SLPs. She also blogs and hosts a podcast, both of which can be found over at The Speech Space. In her spare time she enjoys yoga, cooking, the outdoors, and spending time with her children.
……………………………………………………………………………………………………..
Check out more wonderful ideas from the Kindness Project here!
To follow the Kindness Project, sign up to receive updates here!