Did you ever get carried away on April Fool's Day? I have…on more than one occasion.
As a teen, I actually convinced my friends that Woody Allen offered me a role in a movie being filmed in France after showing them a photo I took with "him" (or, rather, with the wax version of him at Madame Tussaud's wax museum). My friends forgave me eventually!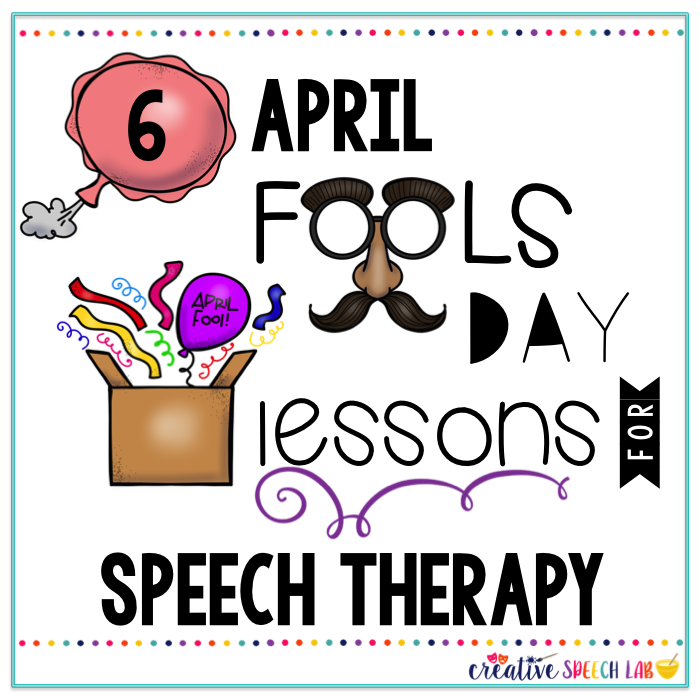 We all know that a key component to effective teaching is student engagement. We want our students' attention. Motivation is a powerful tool and, let me tell you, April Fool's Day will do the trick (pun intended).
So here are my favorite, fun and easy (yet targeted) April Fool's themed lessons you can use with your own students!
1. Wh Questions
What is April Fool's Day?
What is a fool? What is a prank?
When is April Fool's Day?
Why is it ok to do pranks on April Fool's Day but not on other days?
Ask your students to read this short passage about the history of April Fool's Day and then ask them WH questions about it!
2. Comparing and Contrasting Pranks
Ask your students to describe how two pranks are the same and how they differ.
…Wearing silly glasses with a mustache disguise
…Putting food coloring in a drink
…Leaving a whoopee cushion on a friend's chair
…Opening a can with a surprise pretend snake in it.
…Leaving a plastic spider on a friend's desk.
3. Synonyms
Ask your students to generate synonyms for common April Fool's Day vocabulary words.
Pranks (tricks)
Shock (surprise)
Laugh (giggle)
Silly (funny)
Infantile (childish)
4. Context Clues
April Fool's Day may be silly but there are several high-level vocabulary words you can target with fun context clue practice!
…I'm sorry for deceiving you when I told you I was giving you vanilla ice cream and put mashed potatoes in your cone instead.
…Did you really believe me when I told you that I'm an alien? You're so gullible!
…I loved your gag gift for our teacher. She was so surprised when a pretend snake popped out of the jar of jellybeans you gave her.
…I know I was being a little mischievous when I put a whoopee cushion in your chair during quiet time in class.
5. Inferencing
Ask your students to guess what the prank is by drawing inferences from three clue words.
Air / noise / sit (whoopee cushion)
Glasses / mustache / eye brows (disguise)
Reptile / long / hiss (snake)
Furry / rodent / cheese (mouse)
6. Articulation
After your student working on /r/ warns you about the chocolate-covered earthworms they're serving in the cafeteria and your /s/ student confesses to leaving soggy seaweed salad and sauerkraut in your egg salad sandwich, April Fool's Day will become way more exciting for your mixed articulation groups!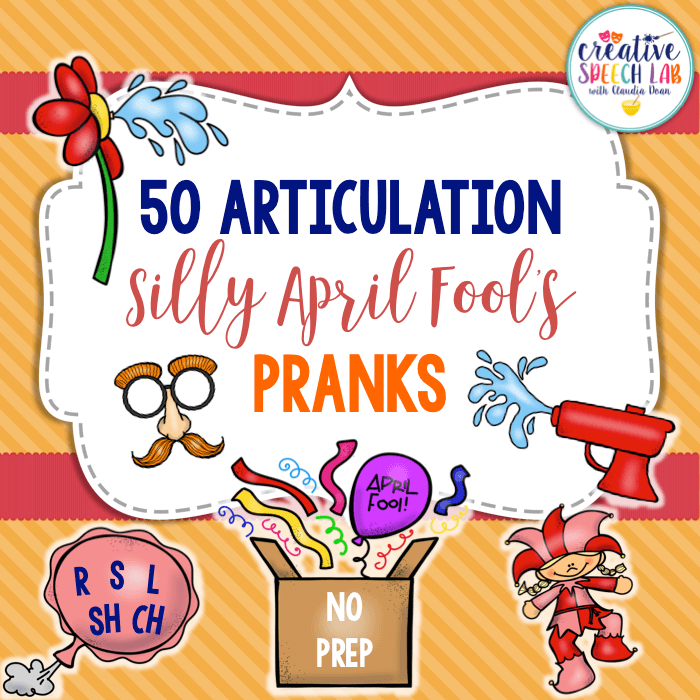 This no prep, April Fool's Day packet provides a motivating way for your articulation therapy students to practice R, S, L, Sh and Ch in group therapy (and can also spark some silly discussions!)! Simply ask students to take turns reading their own silly articulation April Fool's pranks and they will remain engaged throughout the entire group lesson!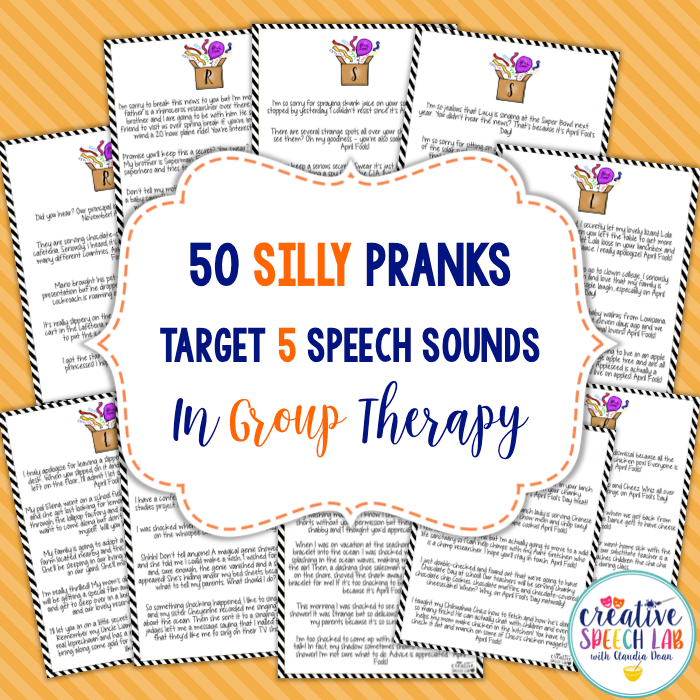 In addition, individual pages from this packet can easily serve as motivating homework to promote carryover. These 50 silly pranks are guaranteed to bring excitement into your articulation therapy group sessions!
Ironically, I won't be able to celebrate April Fool's Day with my own students this year. I'm excited to share that I'll be hosting a segment on Good Morning America about how to bring this exciting holiday into the classroom!
April Fools!
I hope this post has inspired you to enjoy April Fool's Day to the fullest in your speech room! I'd love to hear how you celebrate!