What if I told you that you can begin giving your students an extra dose of kindness with minimal effort, tomorrow?
Well, I'm telling you that you can, thanks to Kim Lewis of Activity Tailor!
Today, I'm continuing our Kindness Project Series focused on providing ideas and inspiration to help children feel valued and confident. You won't want to miss Kim's meaningful and delightfully easy ideas (as well as her wonderful kindness freebie!)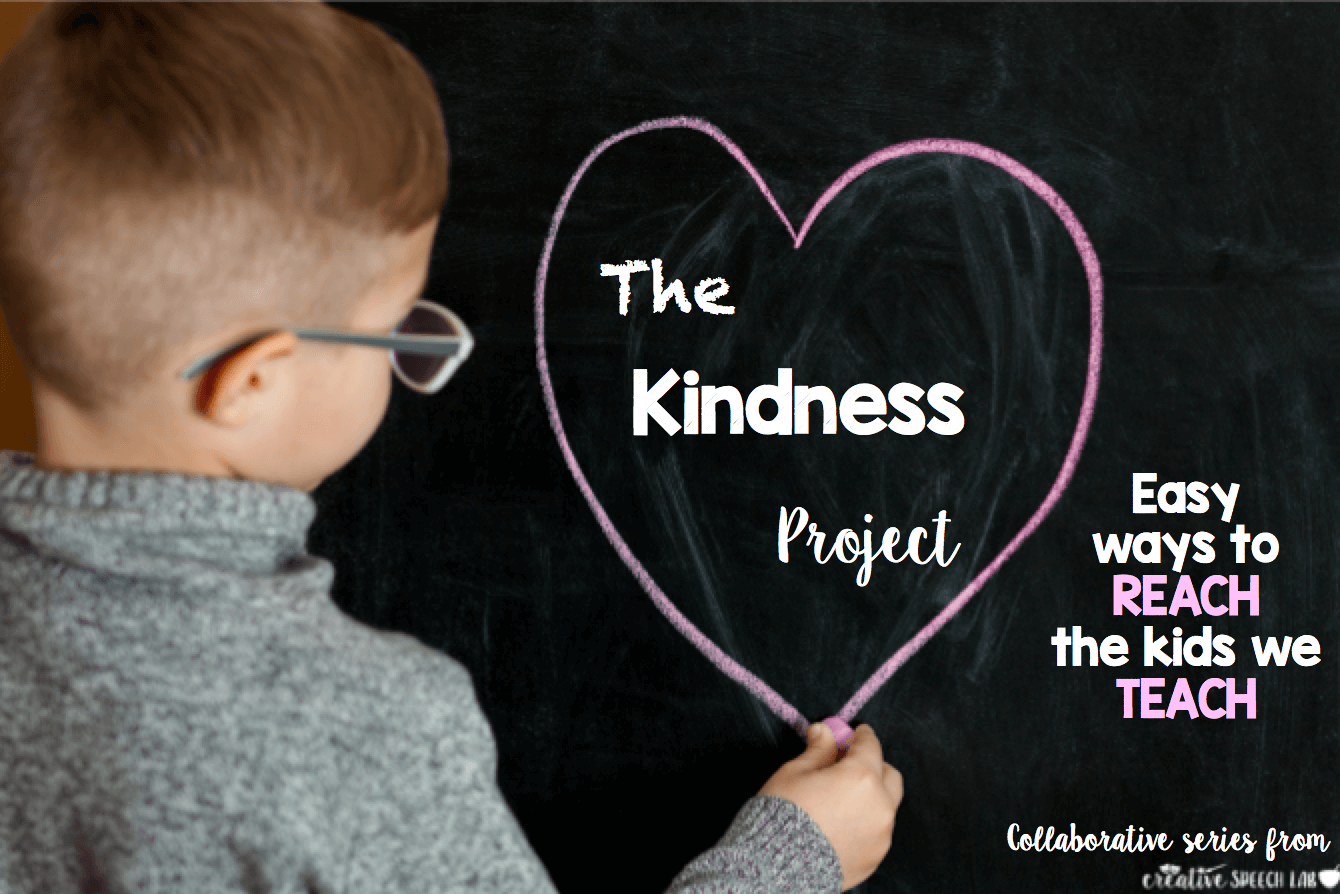 Easy Ways to Offer Kindness
Ugh. On January 13, 2017 (yes, a Friday) I woke at 2:30am and never fell back asleep. Maybe it was the bright, full moon? Maybe it was a few thorny issues running through my mind? Regardless, I was completely unfit for human interaction the entire day. Quick to anger, quick to tears, I muddled through as best I could.
When I got home, there was a surprise waiting in my mailbox from a friend. A just because, "this made me think of you" gift, and she didn't even know I was having a bad day. That kindness brightened my evening (and yes my eyes welled up, too).
I have a number of kiddos that, if they're at school, they are pretty much having a bad day. Sometimes it's because they aren't getting as much sleep as they need due to family schedules, but more often it's because school is really hard for them–the sensory overload of the classroom, the lessons and directions that seem to go by at the speed of light and, to them, the surprising behaviors of classmates. They are quick to anger and quick to cry. On more than one occasion a referral to me has included an aside from the school psychologist or a resource specialist, "Kim, this one needs to feel like someone is on their side."
I think this happens to a lot of SLPs. We have a unique position in that we are outside the normal school routine and typically seeing students in smaller groups. Because I'm a private therapist contracting with a private school, I'm generally seeing students individually. I've found students are much more likely to open up to me because my room is "safe." Our work is challenging, but designed to be a manageable reach above where they are and they don't have witnesses to their struggles. And adding a dose of kindness is something I'm more than happy to share.
These acts of friendship can be small and still carry an enormous impact and usually require very little additional effort. I have one student that loves gum. His previous teacher allowed it, the current one does not. I'm a gum person myself. Keeping a small stash of his favorite flavor that he is permitted to help himself to (one time at the beginning of our session) is a way for him to feel special and valued.
I've found that a feeling of independence and responsibility often go a long way in validating a child. This might mean that they are permitted to go into my closet to select an activity or that they can go into my file cabinet and locate their own file (have children choose the folder color and put a sticker on the name tab for identification and to maintain anonymity; you can add initials or a number for yourself). Students that I collect after PE or recess know they can go into my bathroom and get a cup of water (I keep a supply of paper cups in there) without having to ask me first.
Personalizing sessions shows you've been listening and value their opinions. Being sure to ask about their weekend plans and then following up with questions the next week are ways to show you've been attentive (even if you have to write yourself notes in their file). I try to keep up with favorite colors so I can ask, "Do you want to be blue again today?" I also give them some time to be the expert and teach me about their favorite superhero or playtime activity.
Our kiddos often have behaviors that prevent them from getting much exposure to kindness or friendship during the day. I hope that providing a role model of kindness will give them a script they can eventually work from themselves.
If you'd like to spark some kindness discussion with older students, colleagues or your own family, please download my free "Let's Talk Kindness Conversation Starters."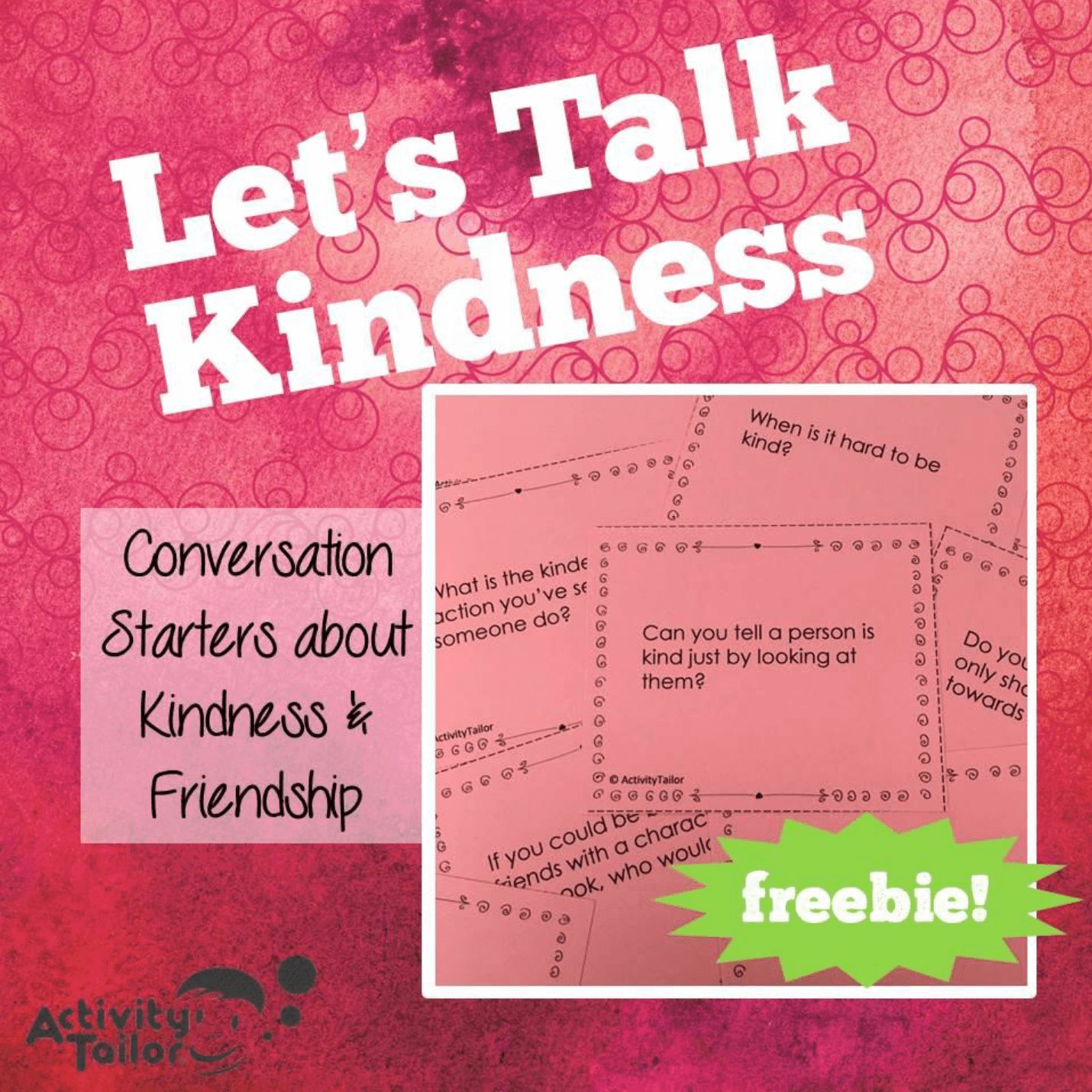 Kim Lewis, M.Ed., CCC-SLP is a pediatric speech-language pathologist in Greensboro, NC. She is also the author at Activity Tailor, creating independent learners with perfect fit activities on her blog and in her store. In her spare time, she can be found reading mysteries, cooking, or ballroom dancing with her husband (much to the despair of their teenage children)
……………………………………………………………………………………………………..
Check out more wonderful ideas from the Kindness Project here (links at the bottom of the page).
To follow the Kindness Project, sign up to receive updates here!