Life isn't always easy and the world can sometimes be a confusing place for children to navigate.  Today I'm sharing some meaningful speech therapy lessons that not only teach important speech and language skills but also aim to instill kindness and altruism in our students (and there's never too much of that!)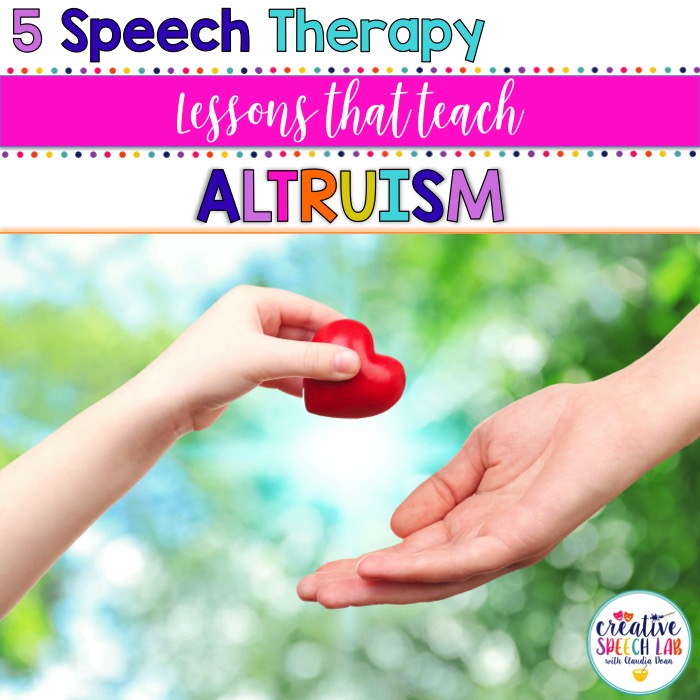 Food Drive
What better way to work on a variety of skills and show altruism than by organizing a small food drive? Ask your students "wh" questions about why food drives are needed, where food can be donated, what to donate (and why certain items are better to donate than others).  Teach new vocabulary such as "perishable," "donation"  and "charitable."  Ask your students to plan the sequence of events that need to occur and practice oral language, pragmatic, fluency and/or articulation skills as they generate language to spread the word to others about the food drive. Once you have collected all of the food, ask your students to sort them by category!
2. Role Model Project
Ask your students to do a little research to find a specific person who demonstrates kindness and altruism.  Mother Theresa? Malala Yousafzai? Why? Then, ask them to tell you what they already know about their chosen person and to list questions they would like to have answered about him or her. Once these questions are answered, ask your students to retell the information and to think of ways they can show the same type of kindness or support a similar cause.
3.  Read "Have You Filled a Bucket Today?"
This wonderful story is geared towards children ages 4-9 but older children can participate as well by reading this story to their younger peers.  Not only is this book filled with language, it also has an altruistic message. You can check out the book and find corresponding activities on the Bucket Fillers website.
4. Positive Vocabulary with a Poster Pat on the Back
Ask your students to generate a list of kind words that can be used to describe a person in a positive way. (Also be sure to include synonyms!)  Next, tape a piece of paper on the backs of each person in the room and ask your students to write kind words to describe their classmates on the paper. Students will enjoy showing kindness as well as feel a boost in self-esteem!
5. Have a Discussion about the "Golden Rule" and "Pay it Forward"
You might be surprised by how difficult it can be for a language-impaired student to provide a verbal explanation of the Golden Rule or the concept of paying it forward.  Students working on pragmatics almost always benefit from a discussion about these concepts.  In addition, children with articulation and fluency goals can practice strategies as they describe these concepts.
Not to mention, both the Golden Rule and Pay it Forward offer some helpful content to address vocabulary. What does "golden" mean? Why is this rule called the "golden" rule? What is a "rule?" What does "forward" mean? What is the opposite of "forward?" Why is the word "pay" used in the term "pay it forward?" You get the idea.
I hope you feel inspired by these ideas to teach speech and language skills while instilling values of altruism in our students.  It's no secret that I love teaching communication skills in the context of meaningful experiences that students reflect on and remember.
Do you have any tips for targeting speech and language skills in a way that injects an extra dose of kindness into your sessions? If so, I would love to hear about them!