Storytelling. It's how we connect with one another. Speech-language pathologists are devoted to it.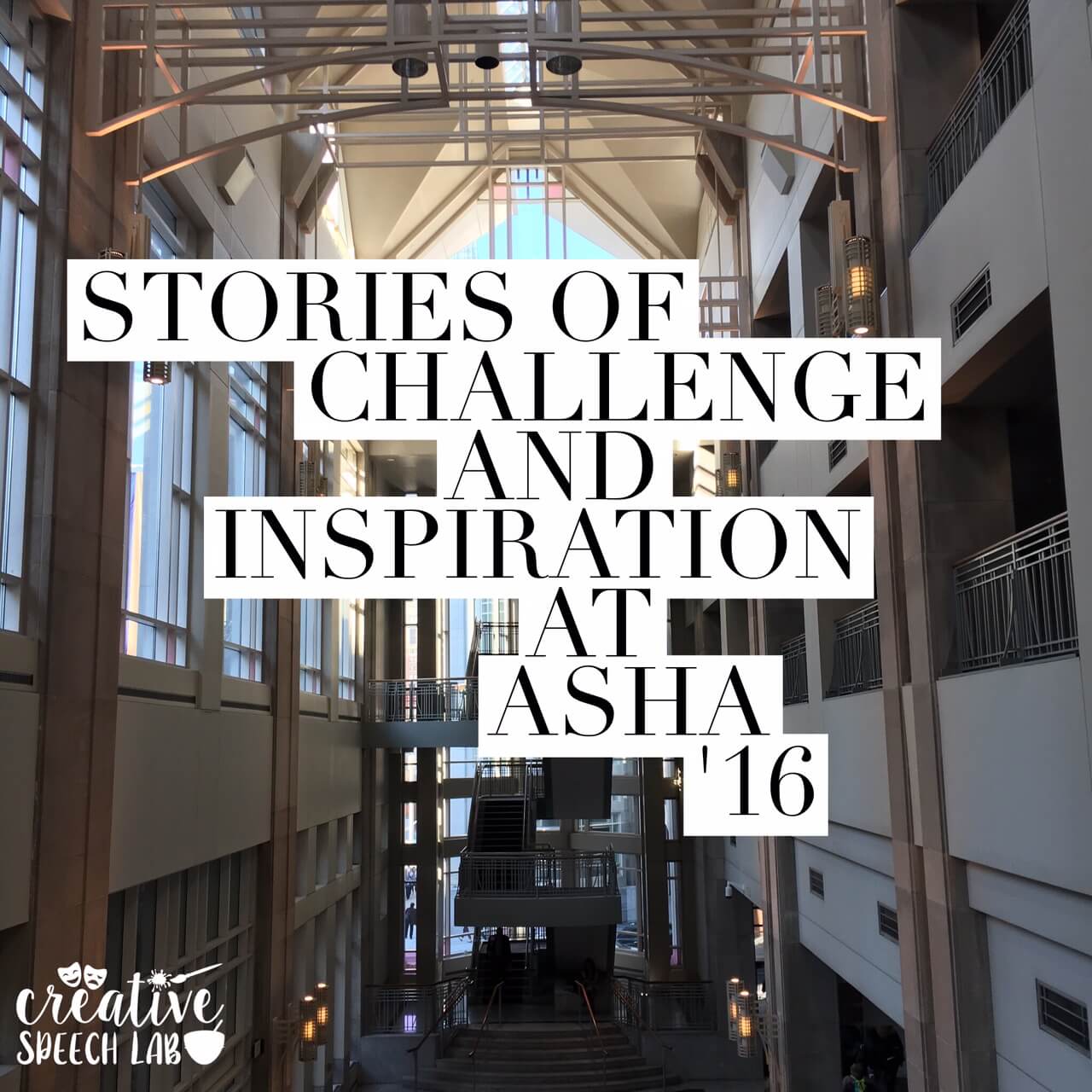 Perhaps that is what's most exciting about the ASHA conference. There's something special about thousands of people coming together for the purpose of helping children and adults communicate their stories. 
As I wandered across the large Philly convention center, I was struck by the powerful stories I uncovered from my fellow SLPs.  Although I heard several tales from SLPs facing challenges, I was inspired by the resilience and dedication showcased by…
…The kind SLP blogger traveling to ASHA from flooded Louisiana amidst home rebuilding. 
…The SLP from Puerto Rico searching for ways to support bilingual, Puerto Rican children on the autism spectrum. 
…The SLP mother struggling to find ways to support her own language-impaired child in addition to her complex caseload. 
And the list goes on.
Despite the personal and professional struggles weighing on the many SLPs I spoke with, there was a palpable energy at this conference that infused optimism and even excitement into all of my encounters. We were there to learn, connect and, indeed, exchange our stories. The innovation, information and ideas shared felt invigorating.
I enjoyed learning…
…how to find evidence-based therapy apps using rubrics from Yapp Guru, FIVE and PICO (courtesy of Mary Huston, Mai Ling Chan and Jessica Solari).
…creative ways SLPs can use kid-friendly therapy apps (e.g. turning your face into an animal) to craft eye-opening and critical discussions about feelings with students who stutter (courtesy of Erik X. Raj and J. Scott Yarus).
…how to use movement to improve phonemic awareness, auditory perception, articulation placement and early literacy. Not only did I find the phonemic motions and lessons from the Sounds in Motion Program particularly useful but I also found it helpful to learn more about the research regarding the factors that place children with speech sound disorders at risk for reading problems, the literacy achievement gap, the SLP's role in reading instruction and the value of teaching whole body listening (courtesy of Holly Thomas, Gillen Brewer Sch, Frances Santore, Stephanie Light-Kunzel)
…and so much more.
In short, I was inspired by the research, discovery and our collective drive to generate new information and ideas to improve the quality of our work as speech-language pathologists. I was inspired by the creativity, innovation (and even colorful debates) I witnessed in the exhibit hall.  And, perhaps most of all, I was inspired by the dedication, resilience and passion displayed by you, my fellow SLPs. The opportunity to view your challenges, stories and love for this incredible profession up close has been one of the greatest gifts I received from ASHA '16.