I may be a little biased but I've never met an SLP who didn't impress me.
Organized, hard-working, creative, thorough, personable…these are only a few of the qualities that I notice from those I've encountered in this rewarding profession.
Although we bring a lot of valuable skills to the table, all jobs come with challenges. Today, I've outlined some of the most common ones encountered by school SLPs as well as some helpful solutions!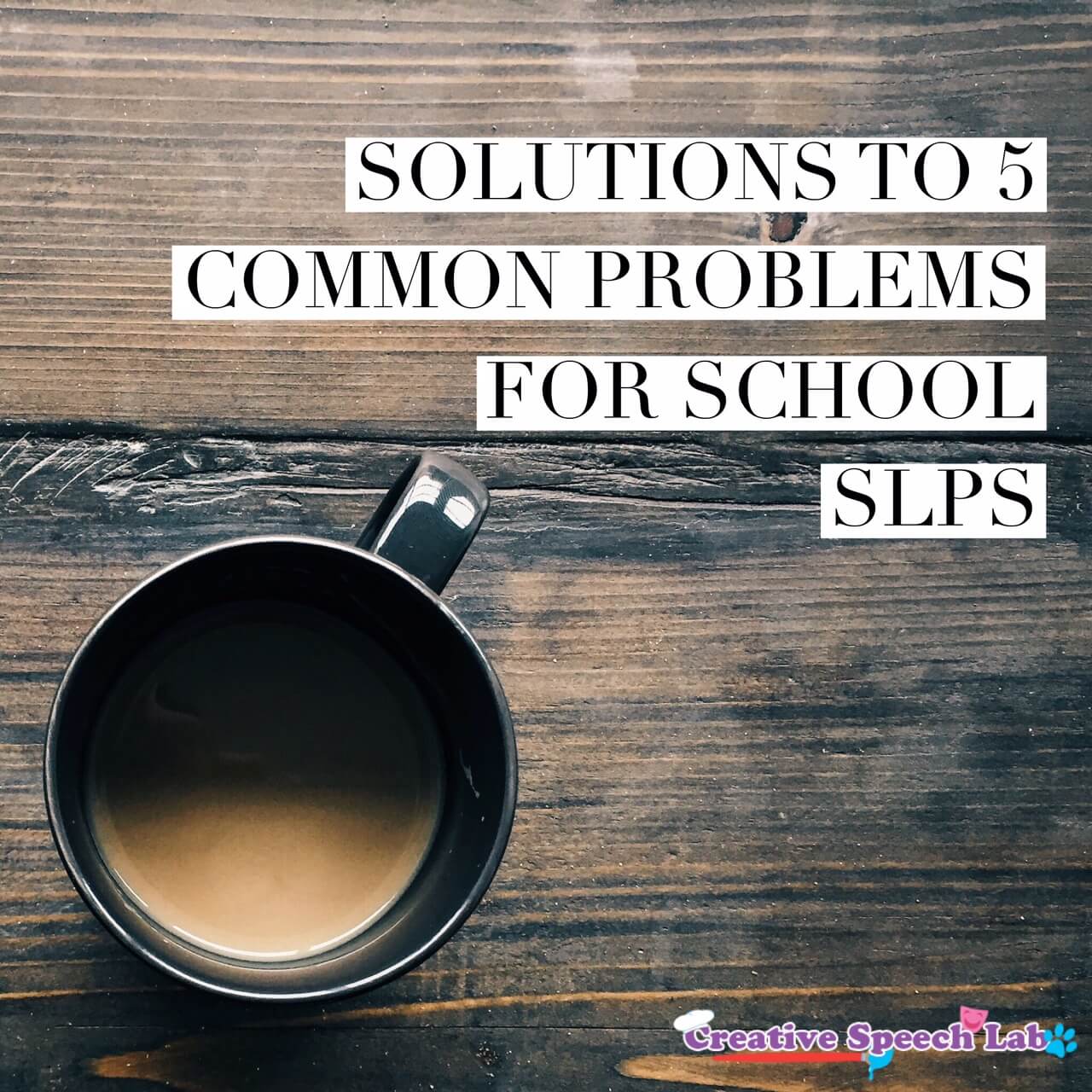 Speech Scheduling
Some liken it to Tetris, but I have always thought of scheduling as a bad dream! Navigating the scheduling constraints of a variety of grade levels (often differing on various week or letter days), coordinating with other specialists, making revisions and finding time for assessment, RTI and um…lunch…can be overwhelming to say the least.
The first thing I recommend is being kind yet assertive with teachers. Explain that you will make every effort to accommodate their schedule but that you will also need flexibility as you are coordinating with X number of teachers in the building. In addition, I highly recommend streamlining your caseload organization with forms and creating your schedule with sticky notes.
Personally, I like to send out a concise overview of the scheduling process to my teachers in the form of a single page newsletter. Then I create therapy groups, which I sometimes sort by goals, service delivery or temperament. (I also created forms to make this easy). And finally, I came up with a way to see when my entire caseload is available using only TWO forms, a file folder and sticky notes (see below). (Can you tell I like forms?)
Sticky notes provide a wonderful way to make revisions. Rater than using pencils and erasers, simply move notes around to make changes. I also like to use a different color for each grade level. You can check out all of my forms and more goodies in my Speech Therapy Scheduling Survival Pack.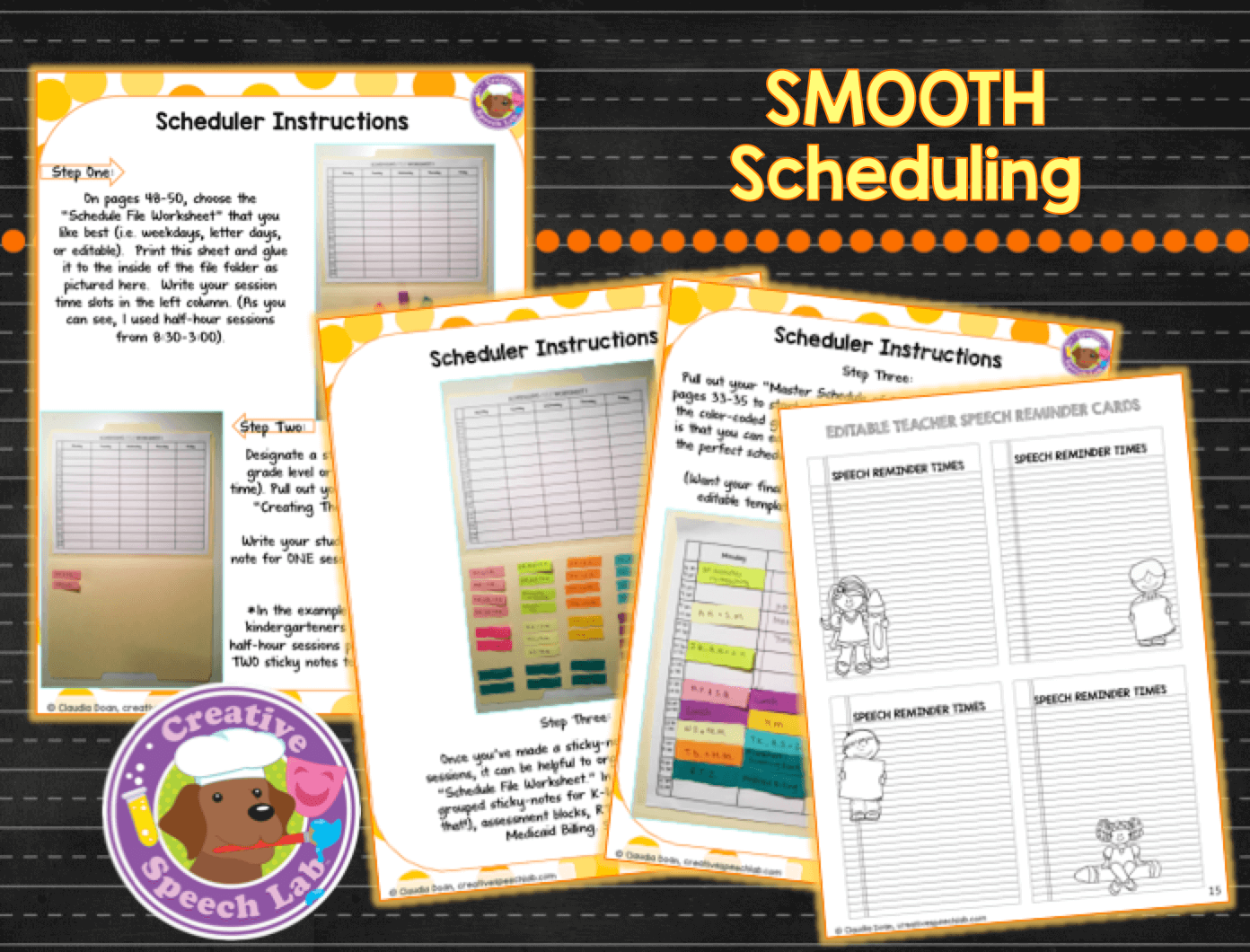 Making Real Progress
We only see our students for a small percentage of time in the big scheme of their week. The people who spend the most time with our students are classroom teachers and families.
I try to attend grade level meetings once a month to share what I'm targeting in therapy and to discuss vocabulary and content I can bring into the speech room to assist with carryover. Ongoing communication like this can go a long way.
I also send homework but (here's another challenge), the completion rate can be rather dismal. When thinking about the amount of homework children have to do for their classroom teachers, it is understandable. I decided to try a different approach by sending home simple, fun and seasonal recipes targeting a wide range of speech and language skills. Easy pumpkin muffins for homework = happy families (who recognize the speech and language potential packed in everyday activities = homework completion (and REAL progress).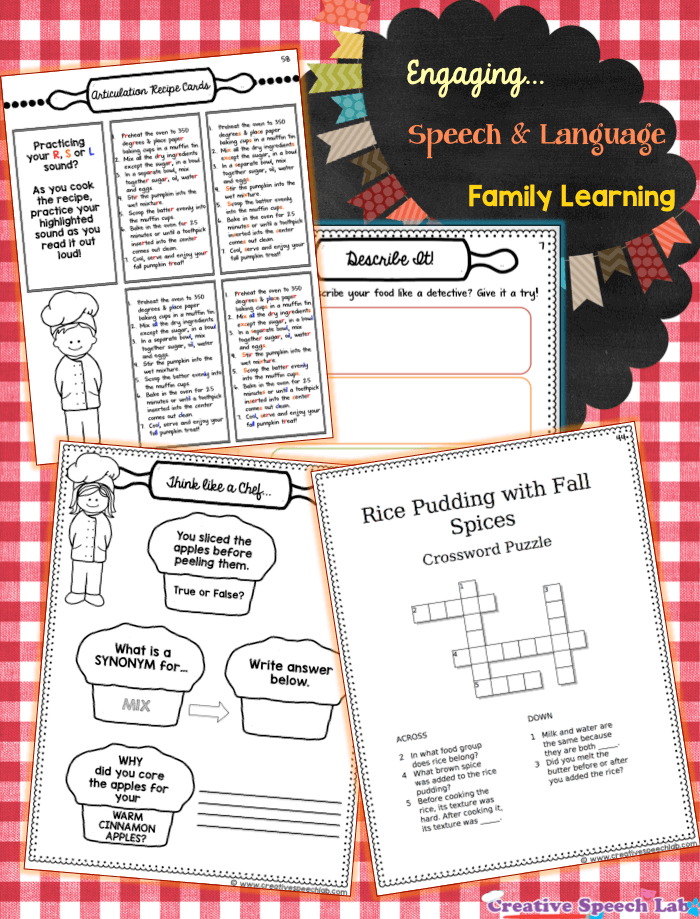 I also like to use evidence-based Exit Slips to reinforce skills we learned in speech that day. I've found that this really helps students internalize lessons presented to them (with the added bonus of it being quick and easy!) They were quite popular so I kept making more and more and now have them all bundled together.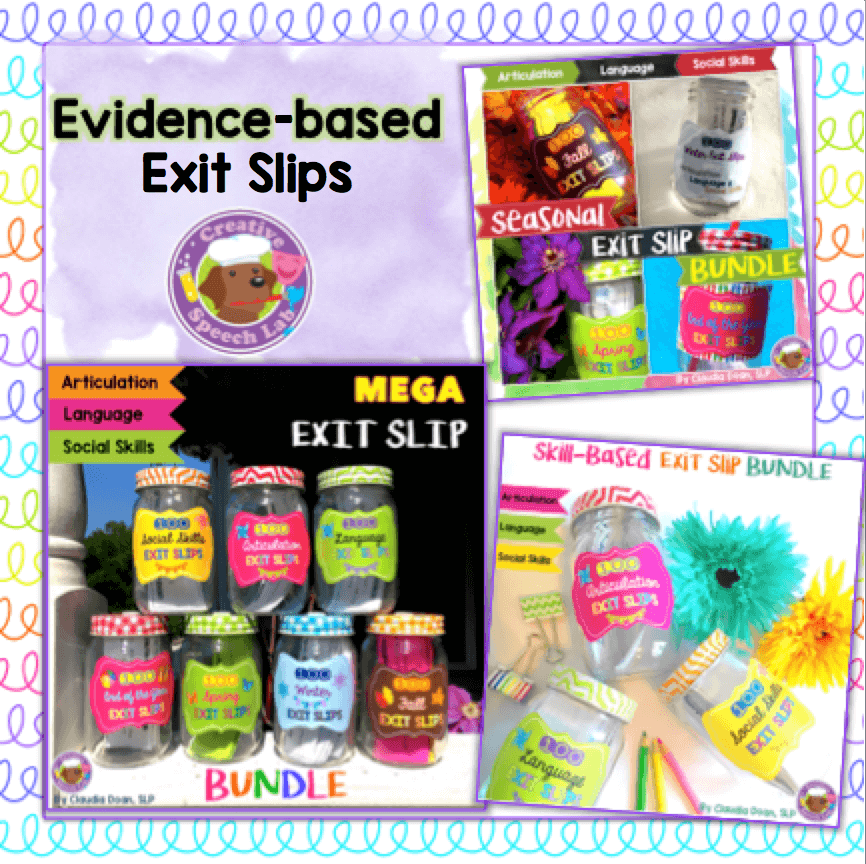 Motivating Students
"This is boring."
No one wants to hear this. Ever. But we do because, of course, our job is to teach – not to entertain. But student motivation and buy-in can make all the difference. We all know that students who enjoy the learning experience will be far more attentive and take in more information as a result.
Now, SLPs know how to make therapy fun. We are known for our fun game supply, are we not? That being said, some skills are challenging. Some skills have to be practiced over and over again.
I like to make therapy as interactive as possible. I also like using materials that work well for groups so all students are engaged together at the same time. Field trips and crafts can provide wonderful speech and language opportunities and keep sessions feeling motivating and fresh.
I've found these low-prep Trioramas for Articulation, Language and Social Skills to be highly motivating for kids. They tend to ask for this activity and (unlike many of my games that I have to use sparingly), I can say yes!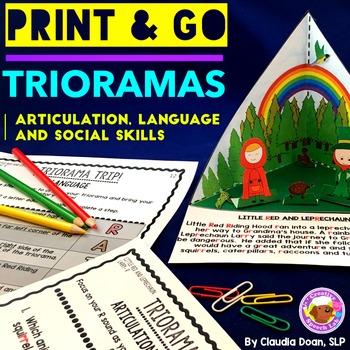 Finding Time (what is that again?)
SLPs wear many hats and one of the biggest challenges is finding time to do it all.
Firstly, I would suggest investing in a planner. There are a wide range created specifically for SLPs on Teachers Pay Teachers and I really like this SLP Planner Roundup from Talkin' with Twang. I also enjoy using my Erin Condren planner as it has monthly and weekly options, spaces for various times of day and plenty of room for notes and pockets.
The most helpful method I've found when I'm tight on time are no-prep materials. My favorite no-prep solutions are my You Decide Stories, which allow students to choose their own path while working on a wide range of language and social skills. I also find Virtual Field Trips helpful to target language and vocabulary and Articulation Theatre Plays to keep kids motivated to practice speech sounds with ZERO prep!
Reducing Stress
Try to set aside a few minutes each day to take a deep breath and live in the moment. Our jobs are hectic but simply taking a few minutes to stop and recharge can go a long way. I've created this free Funny Adult Coloring Book for SLPs for this very purpose.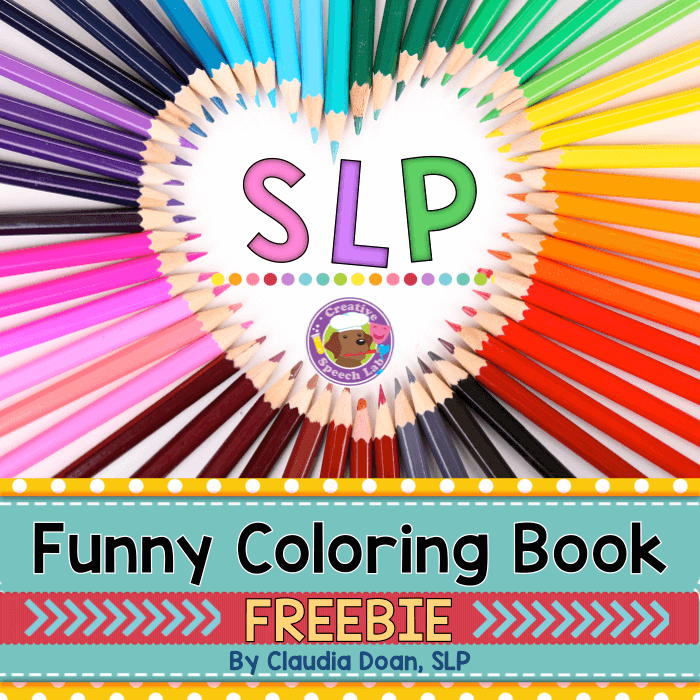 On days when you're caught up with all of your responsibilities or frustrated with how a session went, remind yourself of the incredibly important work that you do. Children look forward to seeing you. They learn and grow because of you.
I've created some free printable inspiration that can be placed in a 4×6 frame that will remind you of how invaluable you are. Never forget it!
I hope these five solutions help you kick off the school year feeling positive and poised to face any challenges that come your way!