As it turns out, my first experience with Selective Mutism (SM) was my first day on the job during my Clinical Fellowship Year in a private school for children with severe communication difficulties. To many bystanders, it seemed logical for the Speech-Language Pathologist to treat children with this diagnosis because, well, SLPs help people who have trouble speaking, right?
This presented a conundrum for me.  By definition, children with SM, consistently fail to speak in one or more social situations, which begged the question:
"If this child can speak in some social situations (i.e. with his parents at home), then I'm not treating an inability to speak…What is my role here?" 
Questions like this circled my mind as I embarked on a journey to learn more about this complex disorder.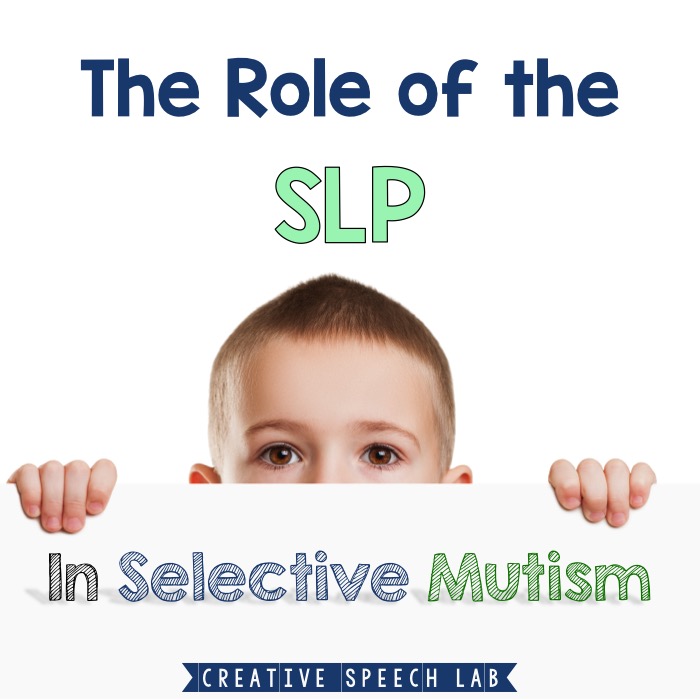 What I later realized was that my way of thinking about the problem was through the lens of physical speech output rather than within the broader scope of communication.  My job was not to help this child learn how to phonate, articulate and make sentences, as I was so used to doing as a grad student.  My job was to help this child face the pragmatic challenges of communication.  To help him communicate in small, incremental steps in an increasing number settings with a greater amount of communication partners.
The specifics of my role became more clear as I more closely examined how SM is defined. According to the 2013 edition of the Diagnostic and Statistical Manual of Mental Disorders: Fifth Edition:
SM is characterized by an ongoing failure to speak in specific social situations despite speaking in other situations.
Not speaking interferes with educational, occupational or social communication functions.
These difficulties occur for a minimum of one month (not including the first month of school).
Failure to speak is not related to a lack of knowledge or comfort with the spoken language being used in the social situation.
SM is not due to a communication disorder, autism spectrum disorder, schizophrenia or another psychotic disorder
Essentially, SM is a specific anxiety disorder in which children are unable to speak in select social situations due to a fear of social embarrassment and excessive shyness. It is relatively rare as it affects approximately 1% of elementary school students.
As SLPs, it's important to remember that this disorder is not the result of an inability to speak or understand language. Although, according to Dr. Aimee Kotrba, clinical psychologist and well-known expert in this area, 35-75% of children with this diagnosis also present with a language impairment and 30% are bilingual, neither are the cause SM as it is an anxiety disorder.  Rather, SM may develop in these children because some recognize they are having difficulty being clear and become mute to protect themselves.  Dr. Kotrba also emphasizes the importance of recognizing that SM is a form of deliberate self-protection and not oppositionality.
So, what is our role as SLPs?
According to ASHA, SLPs should play a role in the diagnosis and treatment of SM as part of a team including the child's pediatrician and psychologist or psychiatrist.
Diagnosis
Again, when it comes to diagnosis, a comprehensive team approach is critical. It is recommended that the SLP's evaluation consist of an educational history, hearing screening, oral-motor examination, parent/caregiver interview, and evaluation of speech and language skills.
How do we assess speech and language skills in a child that does not speak? ASHA suggests recruiting parents.  Ask them to engage in structured storytelling or general verbal discourse on video.  You also may be able to obtain useful information by engaging in pretend play. Receptive language may be easier to gauge as responses can often be obtained through pointing and multiple choice questioning.
Treatment
The approach to treatment tends to be largely behavioral in nature, which is why collaboration with a psychologist is extremely important.  The three primary behavioral interventions found to be effective in assisting children with SM are:
Stimulus Fading:  This technique can be used to gradually ease students into new settings or to introduce more communication partners. Using the latter as an example, if a student is comfortable speaking with the SLP in an office setting, they begin speaking with the door open.  Once the student becomes comfortable speaking with the door open, a teacher casually pretends to take care of something by the doorway. Small steps are taken over time to increase the student's comfort level with the teacher entering the room, remaining in the room, engaging in conversation and, ultimately, having a 1:1 conversation with the child.
Shaping: This strategy is typically employed when a child does not speak in any school setting or with any communication partner. This entails reinforcing all communication attempts from the child and gradually taking small steps (i.e. blowing, whispering, sound production) geared towards verbal communication, utilizing a significant amount of positive reinforcement.
Self-Modeling: This involves video taping the child speaking effectively (e.g. with family members at home) to increase self-confidence and generalize this desired behavior into other settings.
If there are speech and language difficulties present, Dr. Kotrba recommends first focusing on positively reinforcing any speech production and gradually working on these skills.  She also suggests coordinating a home program to more effectively address these skills.  I gained a great deal of valuable information from her on-line CEU course on this topic.
If you are working with a child who has SM, I highly recommend utilizing this free online library compiled by the Selective Mutism Group. This library includes printable articles, materials and handouts organized into a variety of pertinent topics.
For further information, I also recommend visiting ASHA (naturally!) and the Selective Mutism Foundation.
I hope this has helped shed some light on our role in this challenging and complex anxiety disorder. Have you ever played a role in helping a child with SM? If so, I'd be so interested to hear about it.