If only we could play hooky from school to grow a garden and play in a spring sensory bin…but, wait, we actually can do this in speech! This week Felice Clark from the Dabbling Speechie reveals just how easy and engaging this is. Perhaps, best of all, these activities allow you to target a huge variety of goals and will last over the course of many sessions. What's not to love?
During the entire month of March, some of my favorite bloggers and I are sharing unique, hands-on experiences that YOU can use to teach your students speech and language skills.  Felice's spring sensory bin and speech garden ideas are as hands-on as it gets! You and your students are in for a speech and language experience treat!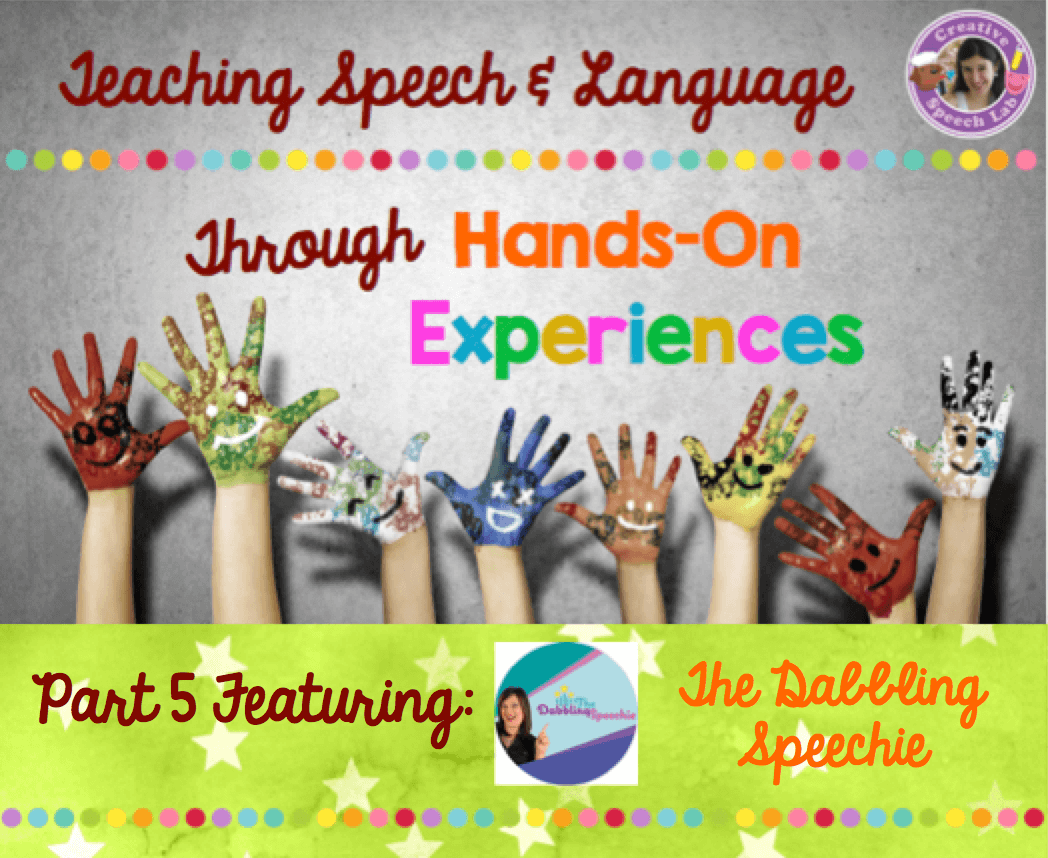 Teaching speech and language skills through hands on learning is something that I believe is one of the most "bang for your buck" types of therapy intervention.  Using hands on activities that incorporate speech and language covers so many skills in just ONE lesson. Learning new schemas, incoporating play, building problem solving, sequential thinking, and making inferences are just SOME of the skills that are targeted when you use hands on learning with your students.
It is very easy to talk about "hands on learning", but as a busy SLP, I have a difficult time trying to figure out how to actually implement lessons that are multi-modal for my students.  I loved reading part one of Creative Speech Lab's blog post about hands on learning! There are 6 parts to her series and I am sharing as part 5!!
The quote from Benjamin Franklin "involve me and I learn," is such a great reminder that we have students that need to feel, touch, see, and hear in order to really build those speech and language skills.
Today, I wanted to share some ways you can use "hands on learning" in your speech room.  I wanted to share ideas that are relevant for this time of year, so we are going to talk about all things SPRING.
I LOVE using sensory bins in therapy with my prek-3rd grade students.  It keeps their attention and they love manipulating all the items.  Plus, I target SO many skills!! Turn taking, pretend play, sequencing, joint attention, describing by attributes, requesting/commenting are just some of the skills I can work on. Check out my March sensory bin post for all the details about why I use them and how to create your own!
I found the black beans at Target, the flower pots were from the dollar store, and the plastic flowers I found on amazon.
The other fun activity you can incorporate with your speech students is planting/growing flowers! Work on describing how the dirt feels, explaining the steps for planting the flower, describing the flower, pot, shovel, etc. You can also talk about what to do to take care of the flower (i.e. water it, sunlight…..I need this lesson #plantkiller) as well as make predictions how high the flower will grow!
I am on spring break, so I can't wait to do this with my little speechies.  I bought pots and seeds at the dollar store!  We are going to grow some flowers and I also wanted to make some cilantro, so we are going to plant that too.  I plan on just keeping the plants outside each day and then bringing them back into my room during the night.
What spring activities do you use with your speechies?  I would love to know, so I can add it to my therapy plans!
You might also like my Insect Sensory Bin (with FREE printable) or my Easter sensory bin (with FREE printable).
Thanks for having me share Claudia!
———————————————————————————————————————
Thank you, Felice for sharing your innovative, spring-themed therapy experiences with us! Your hands-on activities target so many skills and are sure to motivate and excite children to learn them!
If you'd like to receive these posts via e-mail, simply sign up in the upper right hand corner of the page and you will also receive a free e-book on how to use puppets as a teaching tool!
Check out other posts in this series HERE!
Stay tuned for some more incredible hands-on ideas and SURPRISES!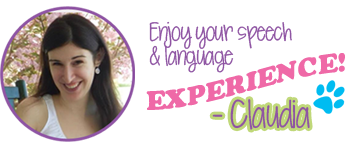 For more ideas, freebies and inspiration, follow Creative Speech Lab on: Teachers Pay Teachers, Facebook, Pinterest, Twitter, Instagram and Bloglovin'.