Delicious, healthy and whimsical Truffula Trees that would make Dr. Seuss proud?
Loveable litter bugs and grassy egg head creatures?
YES, please!
During the entire month of March, some of my favorite bloggers and I are sharing unique, hands-on experiences that YOU can use to teach your students speech and language skills. You'll SPRING into hands-on learning with these sensational ideas from Rose Kesting over at Cooking Up Good Speech.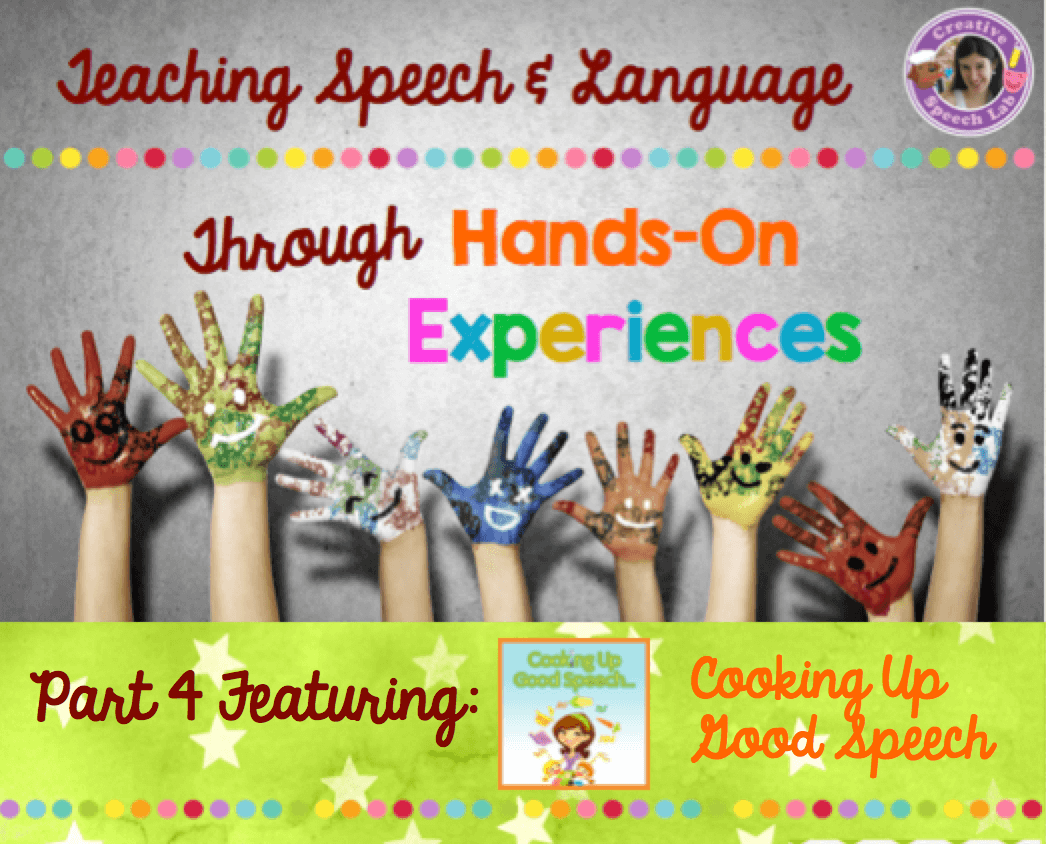 Celebrate Spring and Earth Day with Multisensory Activities
I love incorporating food-tivities and craftivities into my therapy sessions! I call these activities "Speech Snacks" because they target speech and language skills while providing your students with small edible and non-food treats and projects! These multisensory activities are great hands-on experiences for students of all ages and can provide very effective ways of allowing students to comprehend and recall information. In combination with a multisensory approach, I also use themed lessons to introduce holidays and seasons. I've put together a collection of craftvities and foodtivities with an Earth Day/recycling/spring theme. Since Earth Day is April 22, you will have plenty of time to gather your materials and plan lessons that will incorporate one or more of these ideas.
TRUFFULA TREES
Always get permission prior to introducing any food-related activity. Check for food allergies before making hands-on projects involving food.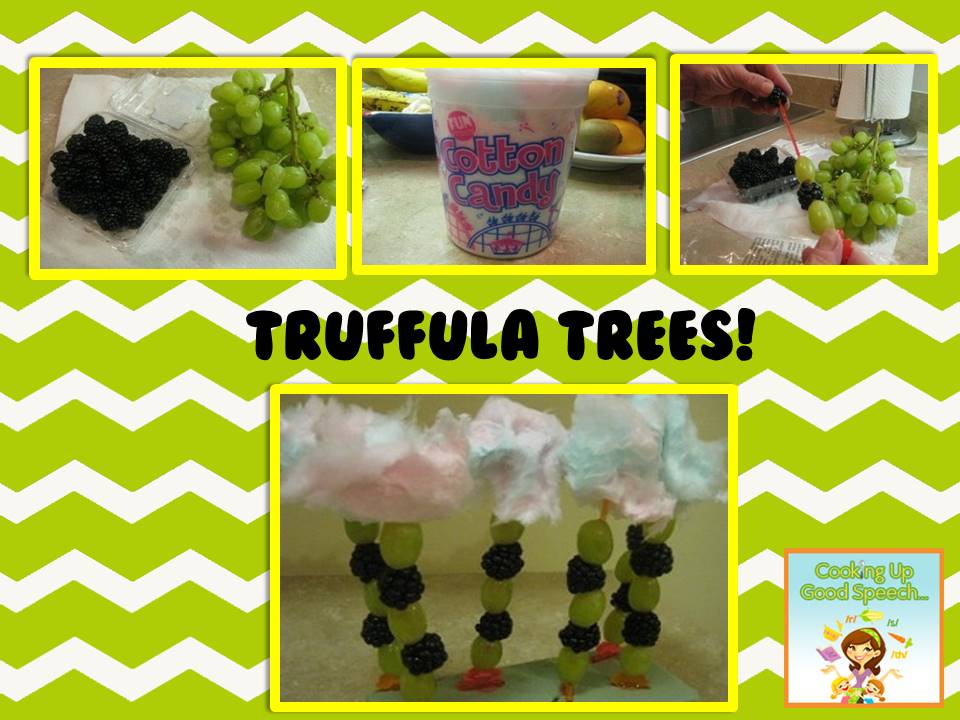 Are you familiar with the Dr. Seuss children's book "The Lorax?" The message of the story involves creating greater environmental awareness. Add it to your collection of Earth Day stories and incorporate this food-tivity in your speech and language lessons.
I am using blackberries and green grapes to construct the trunks of my trees. I think the textures and varied tastes of each fruit make the trees more interesting and fun to eat! Some other "tree trunk" possibilities: red grapes, strawberry chunks, raspberries, marshmallows…use your imagination!!
You can find cotton candy in many of your local dollar stores, craft stores and supermarkets. It looks a lot like the wispy tufts of the Truffula trees. Use sparingly. Remember, this is pure sugar and some artificial coloring!
I used long cocktail stirrers to thread on my fruit. You can also use wooden skewers but don't let your tree get too tall or it might not stand up for long! Toothpicks are sharp so be careful if you use them!
No need to make them exactly as shown in the picture. Your students can determine how to pattern the "tree trunks."
I used a thick piece of Styrofoam and inserted my sticks into it to display our forest of  Truffula Trees!  Enjoy this sweet treat with your kiddos while you address speech and language skills.
Here are your "Speech Snacks:"
Use this activity to address sequencing, direction following, conversational turn-taking, comprehension skills and articulation.
Read the story "The Lorax," by Dr. Seuss, with your students prior to creating this project to give them some background knowledge and allow them to make connections between the food-tivity and the message of the story.
FOR CONVERSATIONAL SKILLS:
Ask your students these questions to help elicit conversation while creating your trees in the classroom:
What else does cotton candy remind you of in nature?
Describe how cotton candy feels.
What happens when you put it in your mouth (how does it change?)
What events is cotton candy sold at?
FOR STORY COMPREHENSION:
After reading the story with your students, search the book for words that contain their speech sounds in the initial, medial and final positions. Have them repeat the words, phrases and sentences containing their speech sounds.
i.e.: for /l/ sound practice:
LORAX— TRUFFULA— BARBALOOTS— ONCE-LER— GRICKLE GRASS— UNLESS!
Additional follow-up activities:
Can you come up with a list of different types of trees with your students?
Go online and search for images of various trees.  Print them out and label them.
Put your print outs into a binder or staple together to make a book of trees.  If your school is located on property that has surrounding trees, take a nature walk with your students and see how many you can identify from your book of trees.
If you spot a Truffula tree, please be sure to take a picture and send it to me!!!
Looking for more Earth Day ideas? Try these recycling projects:
Start saving those egg cartons and egg shells. You'll need them to make LITTER BUGS and EGG HEADS this spring!
Here are your "Speech Snacks:"
Compare and describe the different litter bugs you have created.
Take turns trying to guess which litter bug the other students are describing.
Most importantly, talk about the importance of recycling and being good to the Earth by remembering to NOT be a litter bug!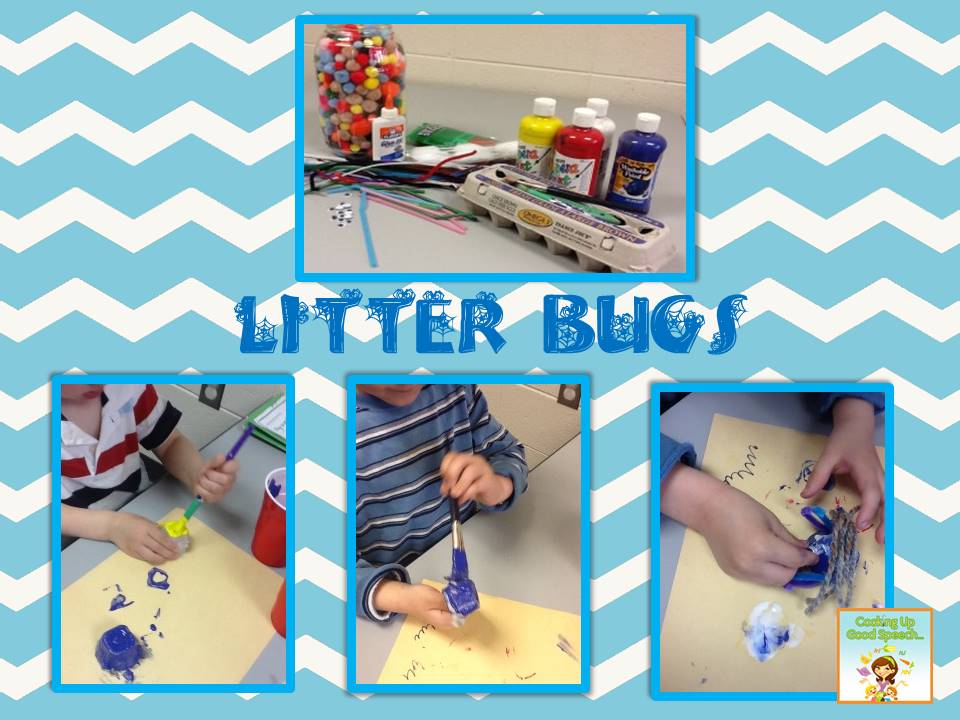 You will need an empty egg carton (I prefer the cardboard ones instead of foam cartons since paint sticks to them much better.)
Use whatever craft supplies you might have laying around the house or school. Remember the object is to recycle and use existing materials. Get creative!
I keep a craft box stocked with tempura paint, colored straws, pipe cleaners, wiggly eyes, yarn, tissue paper and pom-poms.  You can also use dried foods like pasta shapes, dry beans, etc.
Cut out each of the egg cups from the carton, then let your students pick the paint colors and give them each a cup or two to paint. If time permits, let the carton pieces dry.  You can add the embellishments while the pieces are still wet, but it may get a little messy.
Add yarn for hair and pipe cleaners for spider legs. Tissue paper can be made into wings.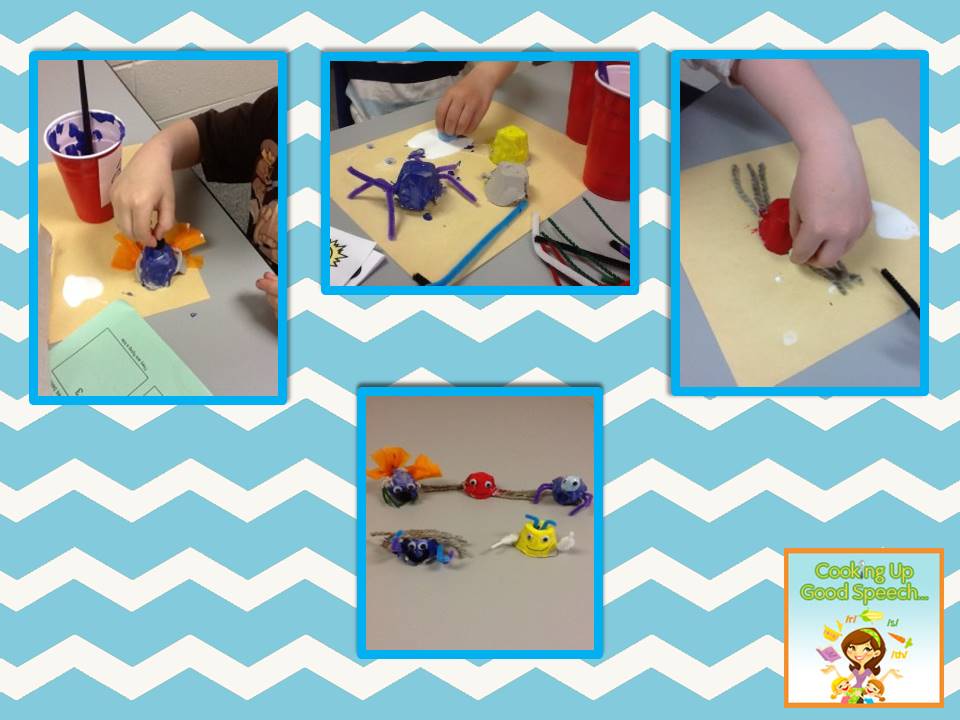 An egg carton is not the only thing you can recycle. Here is a great way to use egg shells—make EGG HEADS! If all goes as planned, your EGG HEADS will grow "hair" on top of their funny little faces!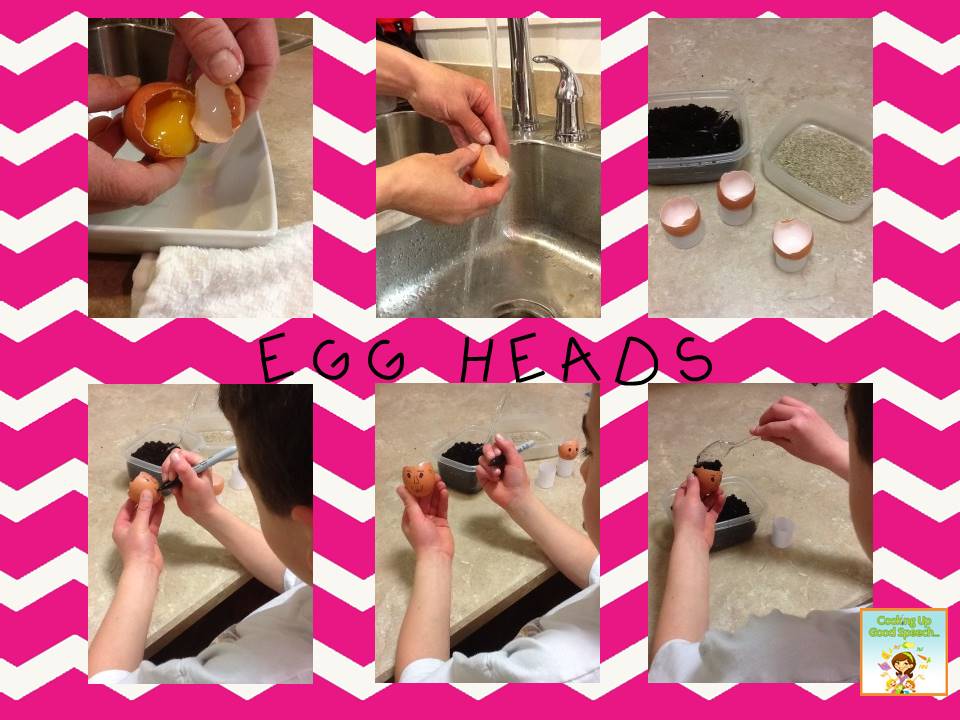 Here are your "Speech Snacks:"
Have your students sequence the steps for making their egg heads.
Talk about the shape of the eggs and brainstorm other things that are shaped like an oval.
Explain the importance of soil, water and sunlight to make plants grow.
Name other types of seeds that can be planted in the ground.
Crack the eggs close to the top portion of the shell so that you will have the majority of the egg shell to write on. Be sure to rinse the inside of the shell with water. Fill two containers—one with grass seed and one with potting soil.  Use a plastic spoon to fill the shells. Before filling in the dirt, give some personality to your little egg heads.  Use a Sharpie marker to let your students design their own face. Fill the shell with potting soil, close to the top but leaving a little space to sprinkle extra soil. Then sprinkle the soil evenly with a few pinches of grass seed. Lastly, cover the top with an even layer of soil—enough to cover up the seeds.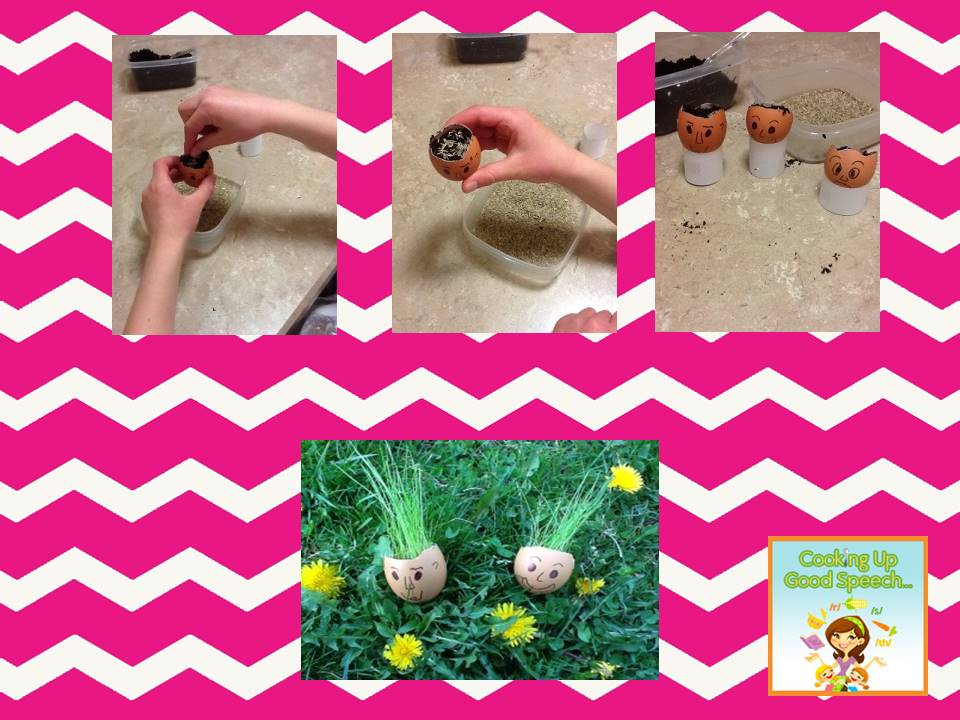 Be sure to water your EGG HEADS occasionally and keep them near sunlight.  You should see grass begin to germinate within 7-10 days!   Once the grass has started to grow, you can plant it in the school yard or have your student bring it home to plant in their own yard.  They will have done their part to help make the Earth a little greener!!
If you are looking for more materials with a recycling theme, visit my TpT store where you'll find my book companion activity for "Michael Recycle." It addresses phonological awareness, rhyming and vocabulary.
—————————————————————————————
Thank you, Rose for sharing your incredibly creative, speech and language "food-tivities" with us!
If you'd like to receive these posts via e-mail, simply sign up in the upper right hand corner of the page and you will also receive a free e-book on how to use puppets as a teaching tool!
Check out other posts in this series HERE!
Stay tuned for some more incredible hands-on ideas and SURPRISES!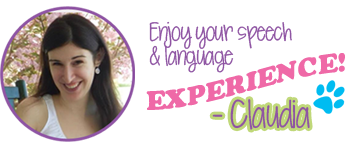 For more ideas, freebies and inspiration, follow Creative Speech Lab on: Teachers Pay Teachers, Facebook, Pinterest, Twitter, Instagram and Bloglovin'.