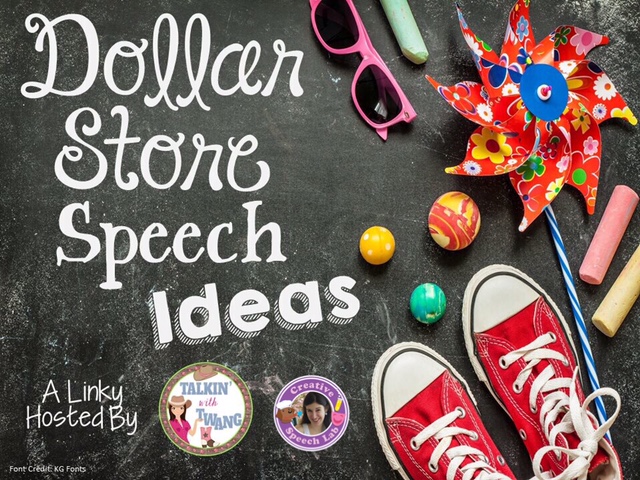 Today I'm excited to be linking up with the wonderful Kristin over at Talkin' with Twang to share how we turned some Dollar Store finds into therapy gems! As you well know, SLPs often operate under a tight budget for materials and I'm delighted to say that my trip to the Dollar Store really got my creative therapy juices flowing!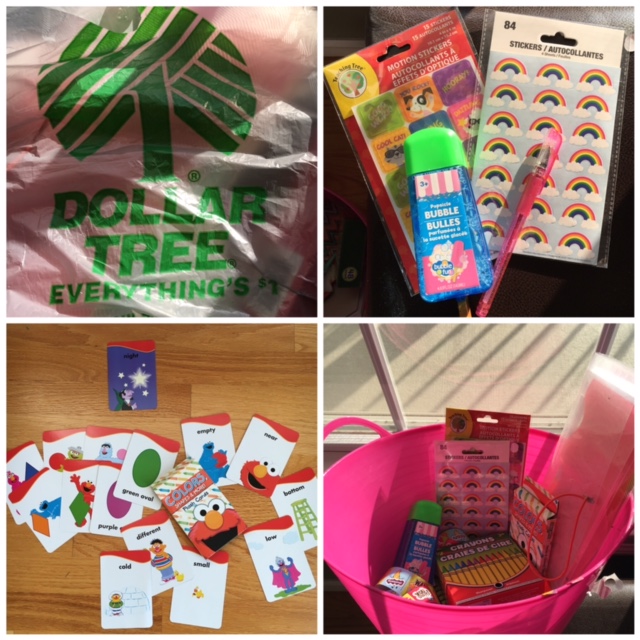 Where to begin? First of all, I was thrilled to find some large and vibrant containers. Who doesn't love organizing therapy supplies into bins (and how about that price)? Then I proceeded to fill it up with some wonderful finds!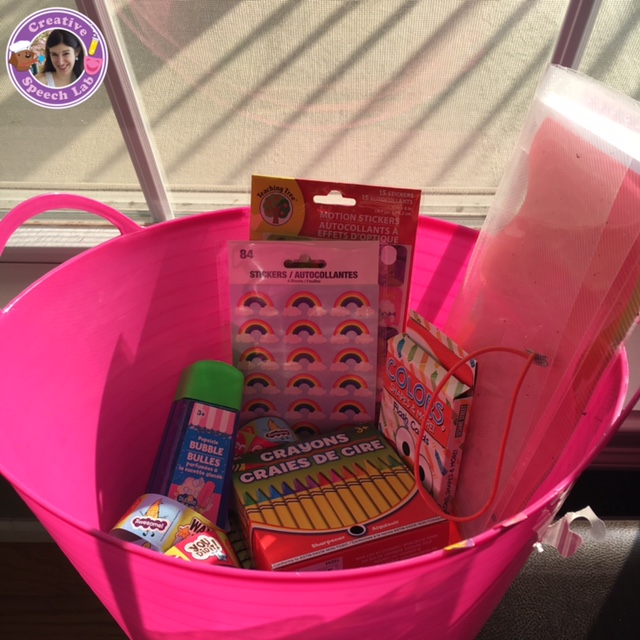 I think I'm most excited about the "Color, Shapes & More" Sesame Street flashcards I spotted.  Many of my language-impaired students are visual learners and this kid-friendly packet of cards covers a vast amount of basic concepts through simple illustrations.  With this single item I can work on colors, shapes, spatial concepts, prepositions, opposites, quantitative concepts, size, comparing and contrasting and so much more!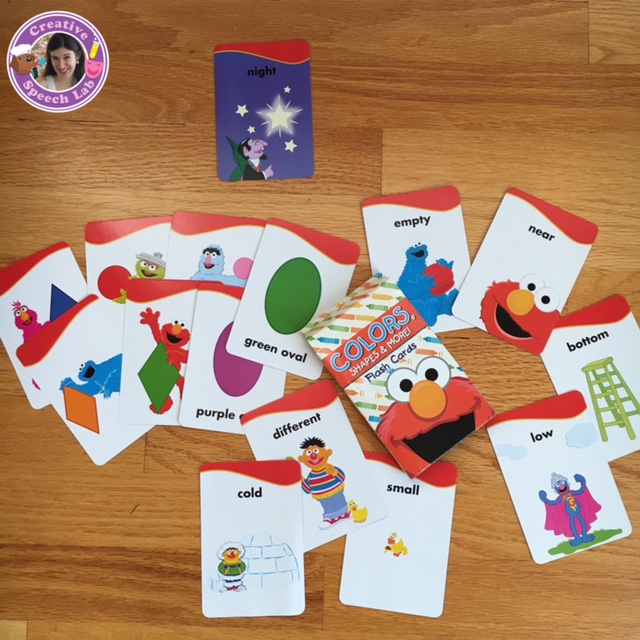 I also found this small, expanding file folder, which, at first glance, can always find a valuable place in any SLP's office given all of the paperwork we have. That said, I actually plan on using this for THERAPY! Depending on the age range and specific needs of your students, this colorful file folder presents a wonderful way to work on:
-sorting pictured items by color
-sorting pictured items into categories
-sorting pictures of boys, girls and groups into different pronoun sections (i.e. his, hers, theirs)
-placing tasks for different portions of the session in each section for students that need structure and motivation (like a hands-on schedule)
-placing stimulus words, phrases, sentences, paragraphs and conversation topics in each section to address a specific articulation target
–storing therapy cards and other smaller materials…..so many possibilities!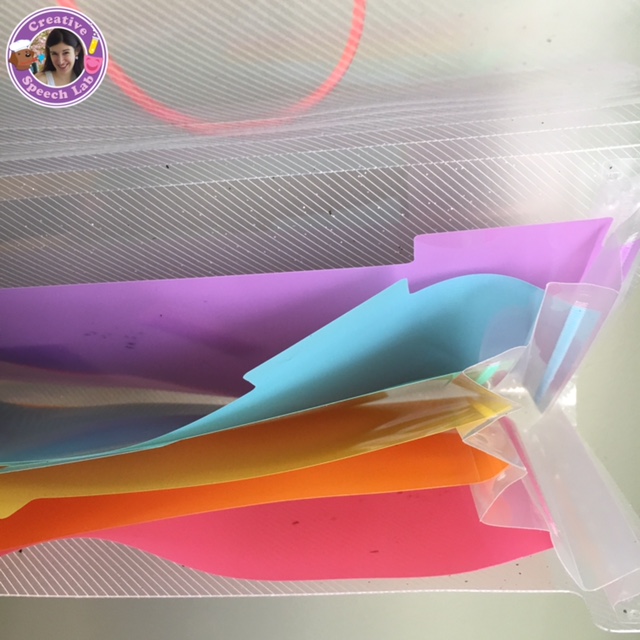 Now, I admit this next one is a little outside the box but don't let its looks deceive you! I purchased some mini packs of tissues (which I'm always running out of) and love the package they came in. I removed the tissues and have this handy pocket that I can use for multiple purposes.
Have you ever taught vocabulary attributes as students provide hints about a secret word for others to guess (color, shape, size, function etc.)? Simply place a pictured item in the pocket and have the student close it (you can even write attribute cues in marker on the top portion)!
This can also make a handy homework pocket for practice words or a reminder pocket with strategies a student can carry in his or her own pocket!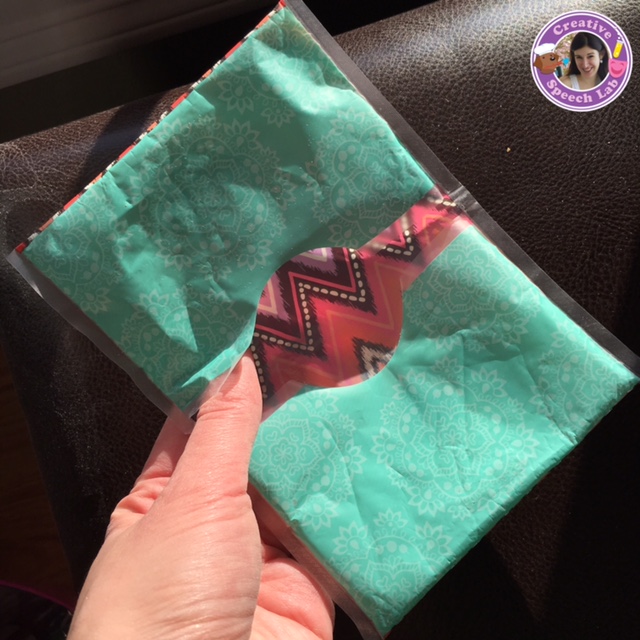 And what hard-working child doesn't love (and deserve) a reward? I found some lovely stickers (even holograms), cute bubbles and some glittery gel pens (I may just reward myself with one of these!)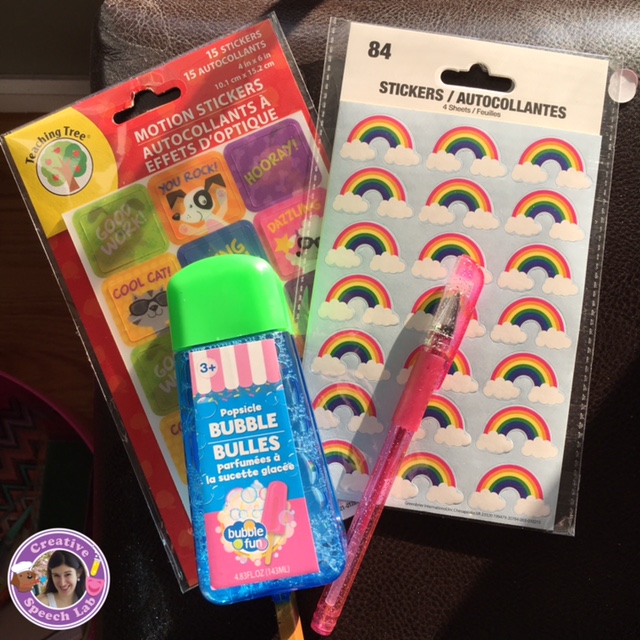 To hear more creative ideas of how to use your Dollar Store finds in therapy, head back over to Talkin' with Twang! Have you scored any teaching tools at the Dollar Store? If so, I would love to hear about them!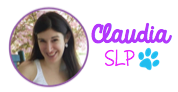 For ideas, freebies and inspiration, follow Creative Speech Lab on Teachers Pay Teachers, Facebook, Pinterest, Twitter, Instagram and Bloglovin'.