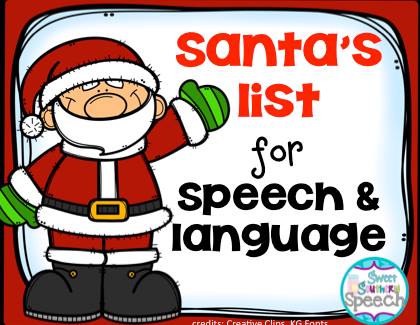 Looking for gifts that foster speech and language development? You've come to the right place!
Today I'm linking up with the wonderful Ashley from Sweet Southern Speech to share 10 exciting holiday gift ideas that promote speech and language development. (This post contains some affiliate links and some that are not, with the focus being on toys and books I have purchased and fully stand behind).
I begin my list with items suited for younger tots and gradually move towards older ages.
1. It's never too early to read to your child.  Even newborns gain so much from hearing the rise and fall of your voice and the wonderful, new sounds of speech and language.  As a mother, I found the Lamaze Classic Discovery Book
 to be a tremendously valuable speech and language tool for my daughter as an infant (she still likes to play with it even as a toddler!) This cloth book is the perfect size for little hands (and mouths!) and presents a myriad of colors, shapes, textures and sounds.  The speech and language possibilities are endless as you can describe the soft texture of the sun, the chirping sound of the bird when you squeeze it, the smoothness of the water and how the owl is perched on the branch and under the moon. The list goes on!
2. One of the first items I purchased as a SLP and mother was the Fisher-Price Little People Animal Friends Farm
 because it offers a wealth of speech and language opportunities! A toy farm allows children to practice:
-Early Developing Speech Sounds (e.g. "baa," "moo," "neigh" etc.)
-Animal Vocabulary
-Prepositions (i.e. "let's put the cow behind the fence and the sheep on top of the hay")
-Verbs (e.g. running, hiding, eating, sleeping)

3. There is nothing quite like a good board book to playfully and lovingly instill a wide variety of speech and language skills in your child. Sandra Boynton books do just that and more! I particularly like books from her Boynton's Greatest Hits: Volume 1/Blue Hat, Green Hat; A to Z; Moo, Baa, La La La!; Doggies (Boynton Board Books)
 and Boynton's Greatest Hits: Volume II (The Going to Bed Book, Horns to Toes, Opposites, But Not the Hippopotamus)
 sets.  These books offer simple yet playfully illustrations and clever text that engages young children. Perhaps most importantly they teach concepts including colors and negation, phonemic awareness, vocabulary (e.g. body parts, animals), opposites, rhyming and so much more. (My personal favorite is Moo Baa La La La
 as it is filled with early developing speech sounds).
4. The kitchen is bubbling with speech and language opportunities.  As children engage in imaginative play you can work on verbs (e.g. mixing, pouring, baking, tasting), vocabulary attributes (e.g. sweet, hot, delicious), prepositions (e.g. on, under, next to), WH questions ("what are you cooking?" "where is the cupcake?"), social skills and more!
5. Children love getting mail and its especially wonderful to send them their own speech and language-rich magazine! Highlights offers Highlights Hello for ages 0-2, High Five for ages 2-6, (as well as a bilingual version) and Highlights Magazine for ages 6-12.  These wonderful magazines present age-appropriate and engaging stories, poems, songs, vocabulary games and activities!
6. Most pediatric SLPs have HedBanz in their bag of tricks because while kids can't get enough of it, it's also a fantastic way to work on vocabulary skills.  The idea is simple. One player wears a head band and the other player places a secret word on it.  The player wearing the head band tries to guess the word through a discussion regarding attributes such as color, shape, category, size etc.

7. One of the primary aims of Creative Speech Lab is to provide ideas and inspiration to use actual experiences to teach speech and language skills. The Scientific Explorer Tasty Science Kit
 does just that as children learn and describe why soda pop fizzes, cake rises and more. During this exciting experience (which is ideal for winter time), children follow directions involving quantitative and qualitative language concepts and describe the taste and texture of the delectable treats they create!

8. Give the gift of yet another exciting speech and language-rich experience with the Insect Lore Giant Butterfly Garden.  This experience lasts a long time as children watch caterpillars grow into butterflies.  During this process, children can broaden their vocabulary, 
sequence events, compare and contrast different stages (butterfly life cycle stages figures are included) and describe the process! (Not to mention it is a beautiful experience to share together in and of itself!)
9. Bring vocabulary to life using everyday objects with another wonderful experience: a scavenger hunt! This Scavenger Hunt for Kids
 helps children learn about vocabulary attributes (e.g. categorization, color, shape etc.) in a fun and engaging way.

10. Last, but not least, I believe that the best gift is your time. Sharing an experience together, whether it be reading a book, taking a trip to the zoo, engaging in imaginative play or playing a game will have a lasting and far-reaching impact. I hope that all of the speech and language-rich goodies I've shared today will conjure up some special holiday memories.
Check out more wonderful ideas from some very creative SLPs over at Sweet Southern Speech! Thanks so much for stopping by! I wish you a beautiful holiday.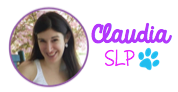 For ideas, freebies and inspiration, follow Creative Speech Lab on Teachers Pay Teachers, Facebook, Pinterest, Twitter, Instagram and Bloglovin'.