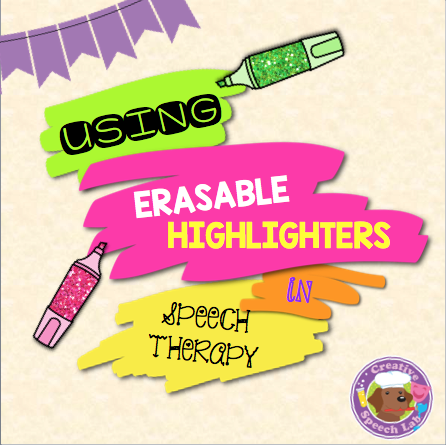 What if I told you there's one simple and inexpensive item that can be used to work on articulation, vocabulary, inferencing, main idea, details, narrative language and student motivation? (No, I'm not describing a magic wand).  An erasable highlighter is a simultaneously affordable and powerful teaching tool.  I've highlighted 7 easy and effective ways to use them in speech therapy.
1. Articulation
While it's exciting when students progress from articulating specific sounds in single words to sentences and paragraphs, self-monitoring can emerge as a challenge.  This problem is easily remedied with an erasable highlighter.  As you ask your students to highlight targeted speech sounds within text, their overall awareness of the sound as it occurs in written and spoken language will increase.  As they read aloud, the highlights will improve their self-monitoring and articulatory accuracy.
2. Curriculum-Based Vocabulary
I've never felt comfortable writing in books. Once I discovered the erasable highlighter however, I got over it! Many language-impaired students struggle with curriculum-based vocabulary. Equip them with their very own special highlighter and ask them to highlight any unfamiliar vocabulary words they encounter while reading. (This is significantly more motivating than asking students to maintain a vocabulary word list). Once you review and make note of these words, simply erase them and the book is as good as new!
3. Context Clues
These highlighters offer an excellent way to teach context clues.  Simply highlight the unfamiliar vocabulary word within the text and then teach your student to highlight the parts of the text that offer clues about its meaning.  Want to teach context clues while working on curriculum-based vocabulary? No need to print out any additional materials.  Just highlight unfamiliar vocabulary and context clues in text books and erase them when you're finished!
4. Main Idea and Details
Identifying the main idea of a passage can be a daunting task for language-impaired students. Ask your students to highlight the main idea and use a different color to highlight supporting details.  An important aspect of learning is first making mistakes.  The beauty of using erasable highlighters is that errors can be erased and corrections easily made. This will help make the process less abstract and overwhelming for students.
5. Narrative Language and Story Grammar
If you're teaching students to identify story grammar elements or to retell a narrative, erasable highlighters will help them to analyze the underlying organization of the text.  Assign a color for each story grammar element (i.e. characters, setting, plot etc.) and ask students to highlight these elements within the text.
6. Inferencing
Help your students read between the lines to make inferences by playing detective. As you present inferential questions to your students, comb through the text with your highlighters and search for the clues needed to infer.
7. Student Motivation
Kids love highlighters and become especially excited when they are allowed to "break the rules" and highlight text in their own books.  Show them the magical eraser and you are sure to have a boost in student motivation and engagement!
I've included affiliate links to some of my favorite erasable highlighters below.
Do you use erasable highlighters as a teaching tool? If so, I would love to hear about it!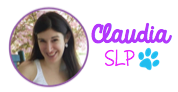 For ideas, freebies and inspiration, follow Creative Speech Lab on Teachers Pay Teachers, Facebook, Pinterest, Twitter, Instagram and Bloglovin'.