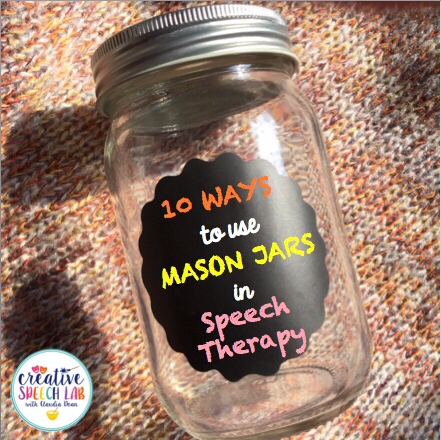 I love Mason Jars. Personally, I like their simple rustic look and, professionally, there's nothing like a clear container to create some teaching magic.
Here are some ways I use Mason Jars to spice up my speech room decor and, most importantly, teach some valuable skills!
1. Communication Temptations                                                                                               When trying to teach children to communicate requests (as opposed to crying or grabbing desired objects) or to expand a child's mean length of utterance when requesting, there's nothing like a clear container with a lid! Simply place desired objects such as small toys, stickers or food in the jar and open it only after they make efforts to communicate their request in the way you want them to.
Mason Jars offer a wonderful way to teach quantitative concepts and vocabulary such as more, less, few, as many as, most, all, and none. Place small objects (such as marbles, candy or coins) in two or more Mason Jars and work on comprehension skills by asking questions such as:

Which jar has more?
Which jar has the fewest?
Which jar has most?
Which jar has all of them?
Work on expressive language by asking students to describe how much is in each jar.  For students needing more support, create fill-in-the-blank sentences.
For example:

This jar has more marbles than that one.
This jar has all of the marbles and that jar has none.
This first jar has fewer marbles than the second jar but the third jar has the fewest. (Hey, why not throw in some comparatives and superlatives for those higher-level language kiddos?)

3. Comparing and Contrasting Attributes
One of the aims of Creative Speech Lab is to offer hands-on, experiential learning ideas and Mason Jars offer just that when you teach comparing and contrasting skills.  Select two (or even three) small objects in the same category and place each one in a jar. Then have students compare and contrast them. This is particularly interesting (and motivating) with food due to taste and textural language components!

4. Story Grammar and Retell
Story grammar and retell will be much less abstract (and more fun) with the use of Story Mason Jars! I like to take five jars and label each one as follows:
1- Setting
2- Time
3- Characters
4- Plot
5 – Resolution
When teaching story grammar elements and narrative language skills, simply write some settings, times, characters, plots and resolutions on small pieces of paper and place them in each respective jar.  Ask your student to select a piece of paper and formulate a narrative using these elements.  Then ask your student to retell the story by using the jars as cues.  Alternatively, you can ask students to retell a story they read and have them fill the mason jars themselves as they fill them with story elements. (If you want get fancy and impress your administrators, you can also add jars for main idea and supporting details!)

5. Categorization 
Ditch those category cards and pull out these fun jars instead! Simply label each jar as a different category and have your students place objects or pictures in the appropriate jar.  For higher level students, write adjectives on small pieces of paper and have your students place them in the appropriate category.  For example, create a jar for summer, winter, autumn and spring and ask your students to figure out where the words blustery, humid and slippery belong (and to define each word while their at it!)

6. Curriculum-Based Vocabulary Word of the Week (by grade level)
Create a Mason Jar for each grade level you work with and ask classroom teachers for vocabulary lists.  Print and cut individual words and place them in the appropriate Mason Jar.  Every Monday, during each therapy session, ask students to select a word from their jar.  Focus on the meaning of this word throughout the week to support vocabulary being targeted in the classroom!

7. Vocal Volume/Pragmatic Role-Play
We all have that student who has difficulty regulating his or her vocal volume according to the setting and situation.  To work on this you will need two Mason Jars.  Fill one jar with various settings (e.g. library, recess, classroom, backyard), another with communication messages (e.g. "hello!," "I'm tired," etc.).  Ask your student to figure out whether s/he should deliver the communication message with a "soft indoor voice" a "medium voice" or a "loud outdoor voice" and then practice doing it!

8. Self-Esteem
Let's face it. Many of the students we work with are vulnerable and do not always possess feelings of self-confidence.  To help give students' a boost, get a Mason Jar for each student on your caseload. (I realize this is a lot of jars but it can actually be decorative if you have a nice shelf and it will definitely make students feel good).  On their first day of speech, have students decorate and personalize their jars. Leave slips of paper next to the jars and, throughout the year, designate times for peers to write compliments for one another.  In addition, write your own compliments for your students.  At the end of the year (or during difficult moments) let your students open their jars.  This is guaranteed to make them feel special!

9. Organization
Okay so if you're a SLP, that automatically means you're organized. (You know it's true!) Mason Jars make great organizers! Store pencils, markers, crayons and even therapy cards in your jars. If you like a cozy speech room decor, decorate your jars for each season! It's fun, easy and pretty (all things I like)!
10. Exit Slips!
My favorite use for Mason Jars this year has been with my evidence-based Exit Slips for Speech Therapy.  I was looking for a quick and motivating, evidence-based strategies to reinforce newly-learned concepts so I decided to create these Skill-Based and Seasonal Sets! Before leaving my room, students simply remove a slip from a jar and answer question! Fun, functional (and my administrators were super impressed!)
If you'd like to try this evidence-based routine, check out my FREE Exit Slip Sampler as well as these Exit Slip Labels to make your Mason Jars extra pretty!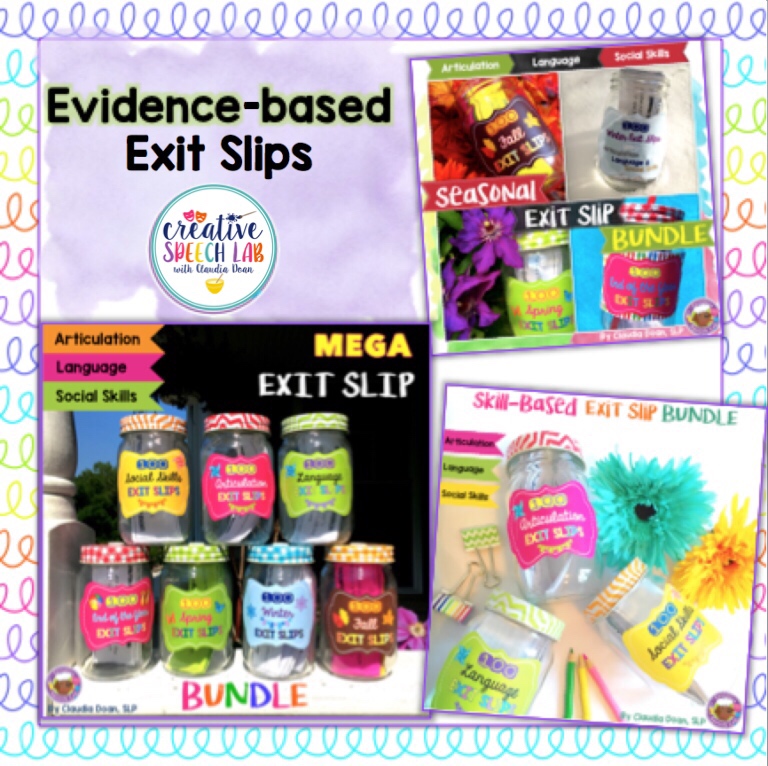 So, have I inspired you to use Mason Jars in your therapy room? You can find Mason Jars in many grocery or crafting stores. (I purchased the jars pictured above on Amazon where I've also spotted plastic ones!)
Do you use Mason Jars in therapy? I would love to hear about it!