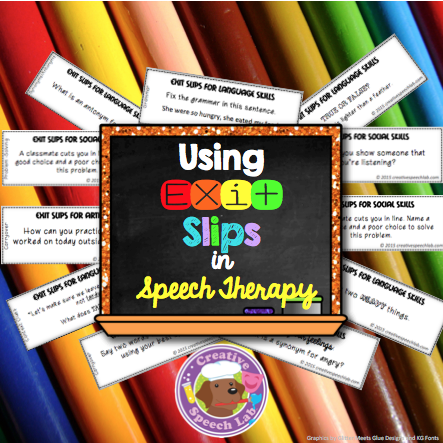 Looking for quick and easy ways to assess your students' understanding of newly-learned concepts and to help them process and internalize lessons learned at the same time?
Do you strive to use evidence-based teaching approaches?
If you answered yes to any of these questions, let me tell you, Speech Therapy Exit Slips fit the bill! According to Cross (1998), effective lessons involve activities that allow students to reflect about what they just learned.
If classroom teachers use Exit Slips all the time to achieve the above goals, why not use some stylish slips in the speech room?  Speech-Language Pathologists teach an enormous range of skills and our students certainly benefit from repetition and reflection.
Incorporating Exit Slips into speech therapy is actually quite easy and it adds a wonderful routine to your sessions. (Not to mention, administrators love this evidence-based approach!)
3 Easy Steps for Using Exit Slips in Speech Therapy:

Purchase fun containers (e.g. mason jars, buckets, bags) and label each one with either the skill being targeted (e.g. articulation, language, social skills) or a therapy theme (fall, winter etc).
Fill each container with corresponding Exit Slips that contain questions related to the topic.
Before your students exit the room, ask them to remove a slip and answer the question.
Now, you can create your own questions ahead of time; however if you're tight on time, I've done all the work for you!
(Be sure to read to the end because I have two special FREEBIES for you!)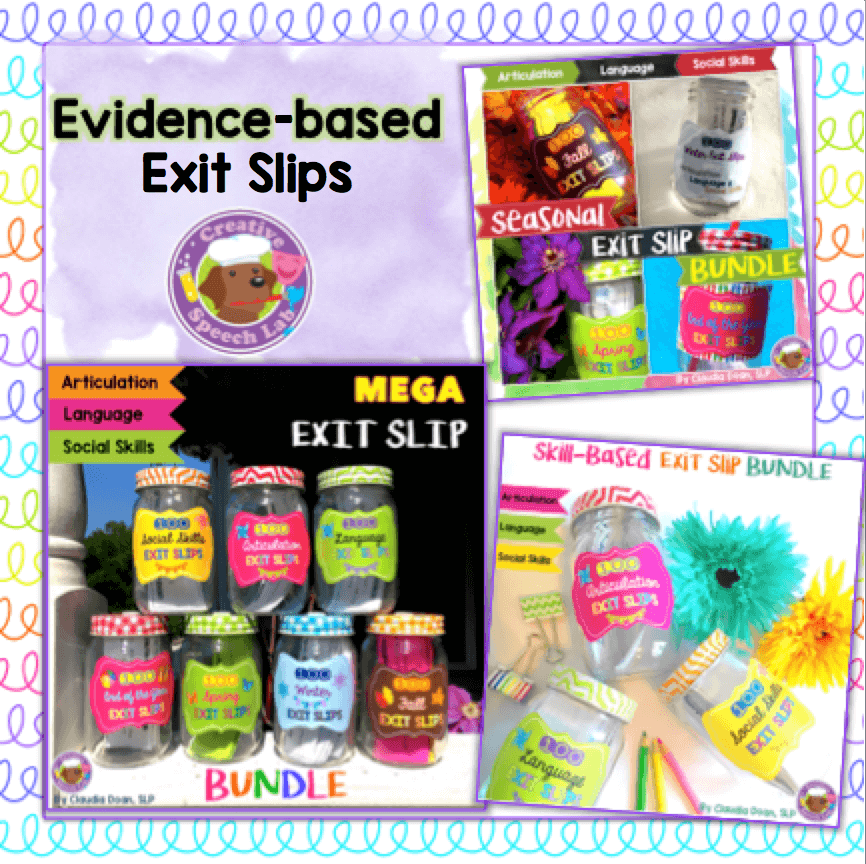 Let's take a closer peek here.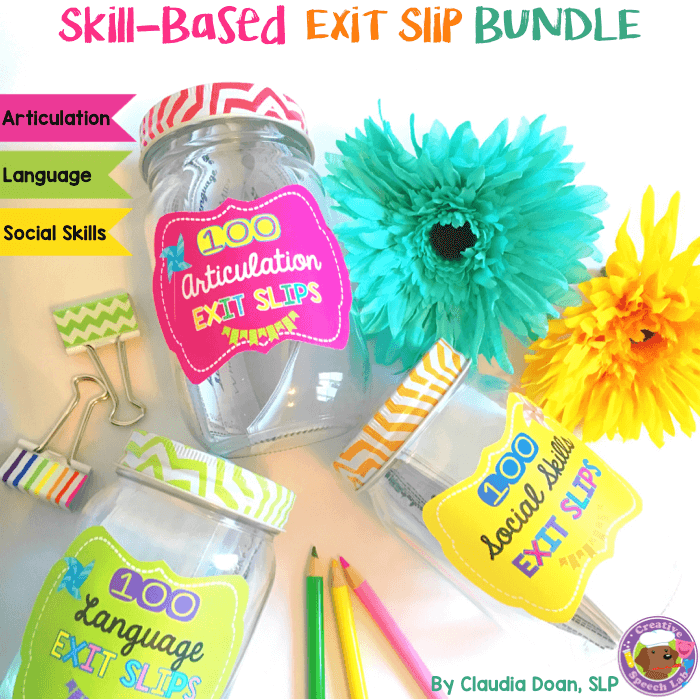 I enjoy mixing things up in therapy and have created a Skill-Based Bundle of 300 Speech Therapy Exit Slips, which includes individual sets focusing Articulation, Language and Social Skills! These were so popular that I ALSO created a Seasonal Bundle of 400 Exit Slips targeting Articulation, Language and Social Skills during the Fall, Winter, Spring and Summer months!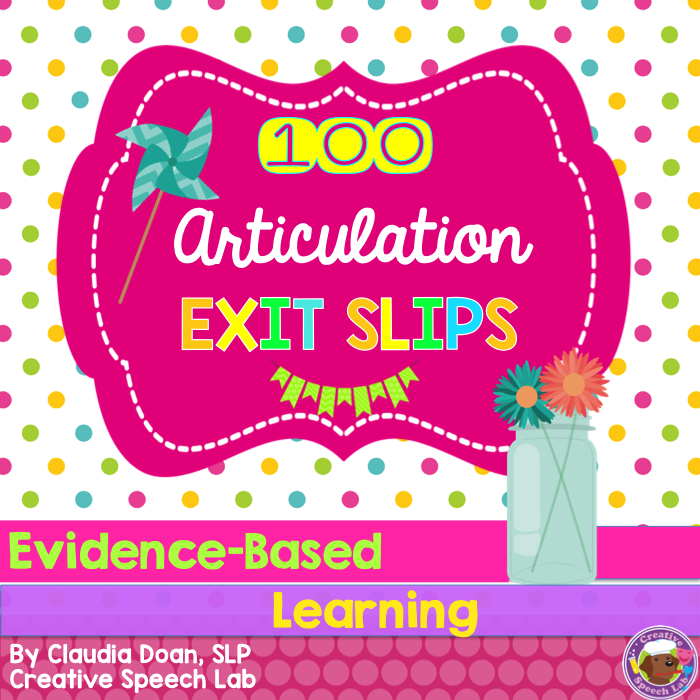 While my 100 Exit Slips for Articulation packet offers quick and easy reinforcement, it is also comprehensive. Not only do these exit slips consist of illustrated words targeting six early-developing sounds (i.e. p, b, m, n, k, g) and six later-developing sounds (i.e. r, s, l, sh, ch, th) in all word positions, they also pose questions specifically geared towards carryover so students can self-monitor and reflect outside of the therapy room. Some such questions include:
How do you make your speech sound? Any tips?
How can you practice what we worked on today outside of speech?
Think of a person whose name contains your speech sound.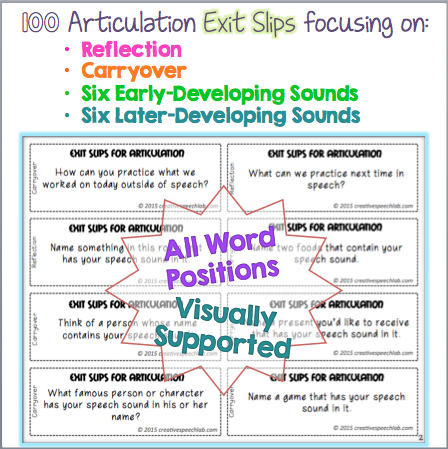 In addition, these Exit Slips are designed to accommodate a wide age-range. Younger children who are just beginning to read will benefit from the illustrated words containing six early-developing sounds. Older kids can practice the six most commonly misarticulated later-developing sounds at the word or sentence level by reading their words aloud (or simply looking at age-appropriate picture symbols).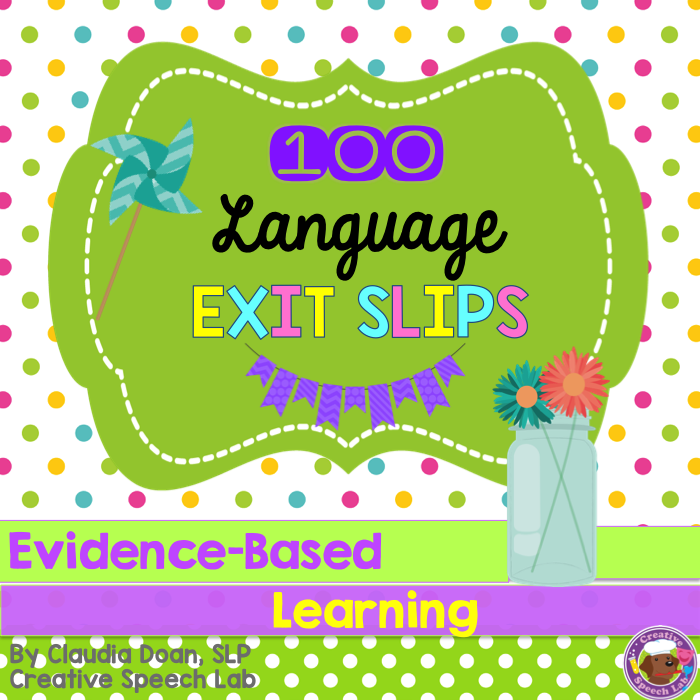 These 100 Exit Slips for Language Skills are organized according to eleven different areas including reflection, synonyms, antonyms, multiple-meaning words, context clues, comparatives (both receptive and expressive), inferencing, sequencing words in sentences, past-tense verbs, grammar and attributes.  All exit slips are clearly organized and labeled by skill area.  This comprehensive set focuses on so many important aspects of language that it can easily meet the needs of any language group you might have.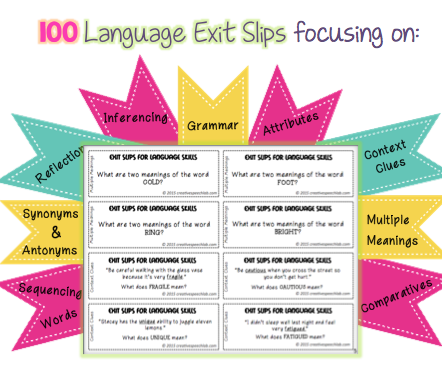 Finally, these 100 Exit Slips for Social Skills will allow your students to reflect on your lesson as well as enhance their understanding of body-language, feelings, conversation skills, problem-solving, safety and friendship.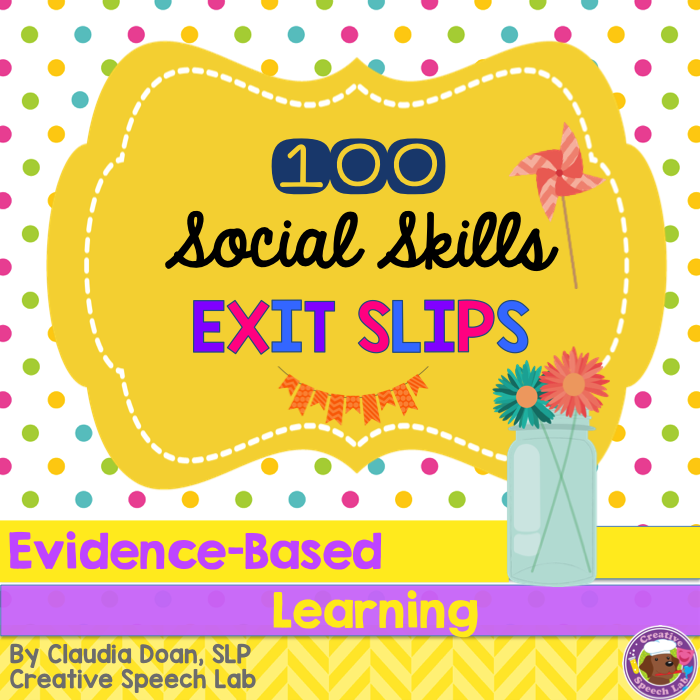 Ideal for any social skills group, these quick yet thought-provoking 100 Exit Slips for Social Skills offer a unique way to help children internalize and reflect on pragmatic language.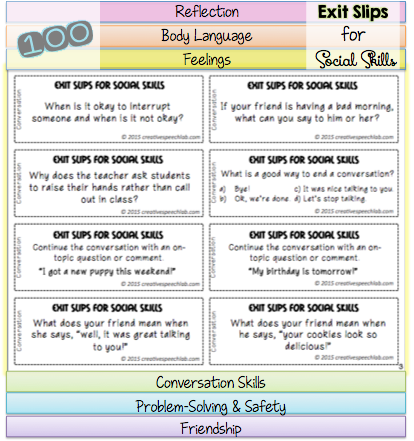 After the Skill-Based Exit Slips became such a hit at my school, I created a Seasonal Bundle of 400 Exit Slips, which my students absolutely love.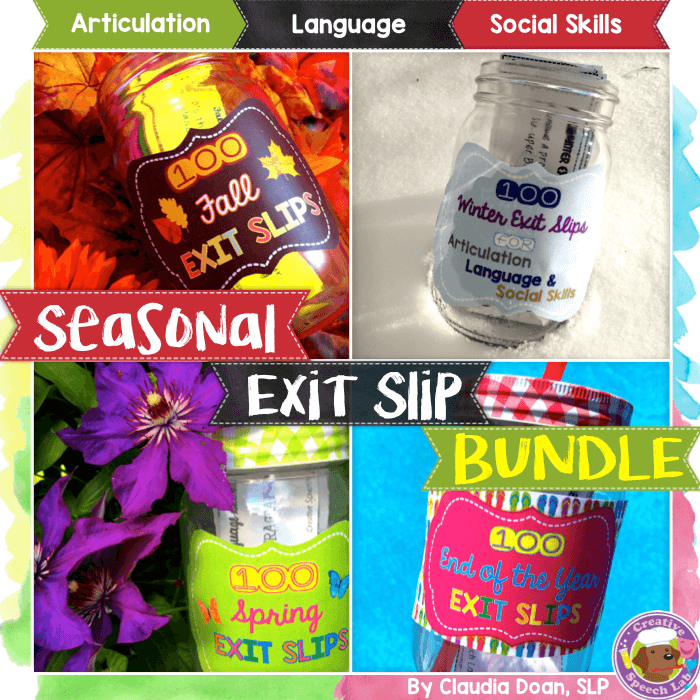 The nice thing about using a seasonal set of Exit Slips is only needing one container!  As you can see in the below image, I simply print all of my articulation, language and social skills slips on different colored paper and ask students to pick out the color they're working on!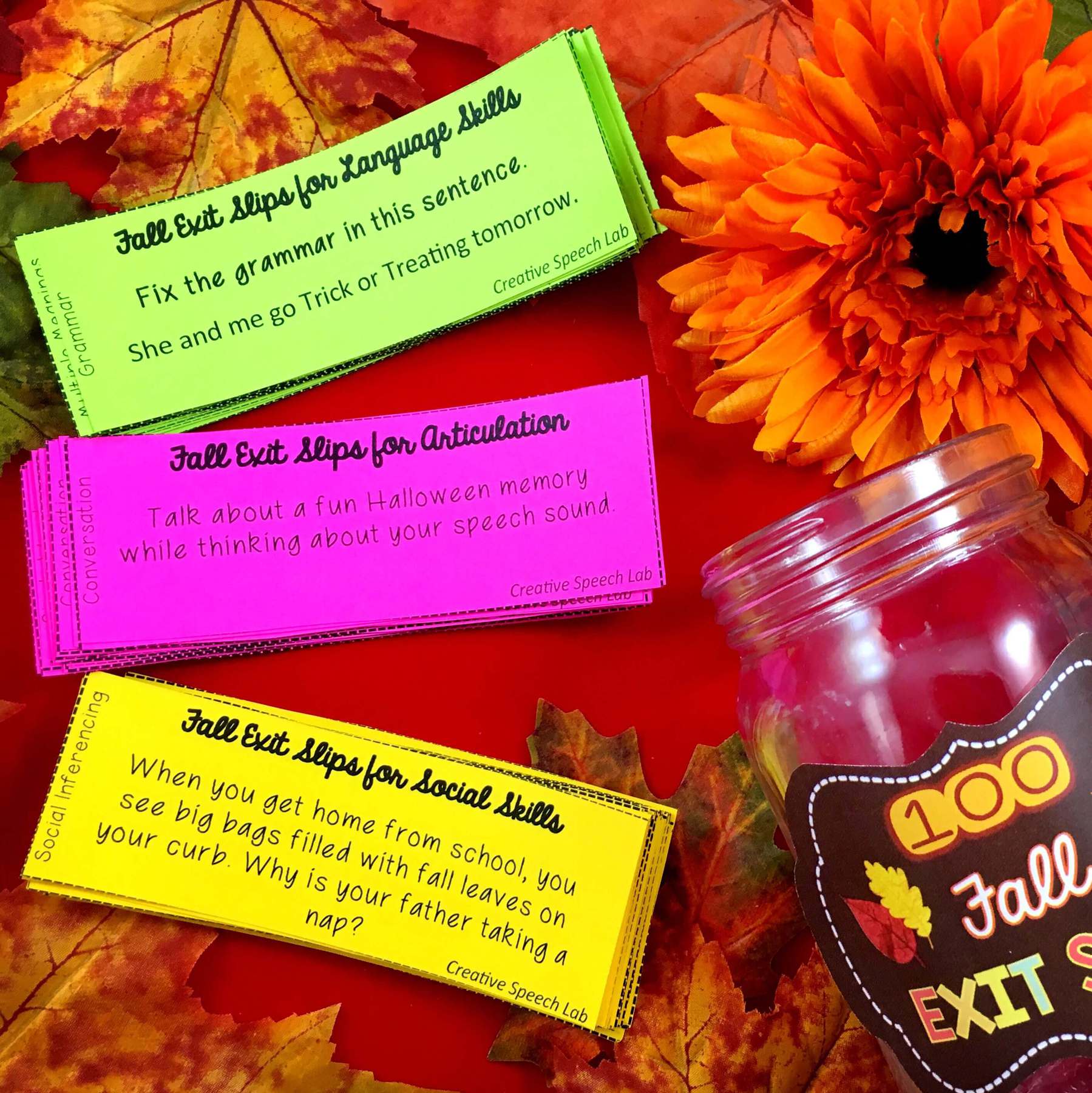 Want to try it out and see how it works? Check out my Exit Slip Sampler to get a feel for what this evidence-based routine could look like in your speech room? But wait, there's more!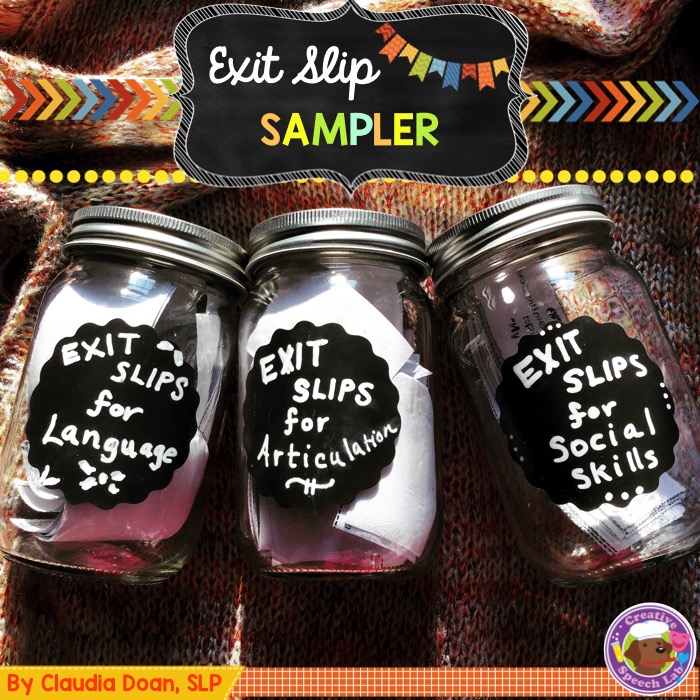 Students respond to visually attractive materials so be sure to dress up your Exit Slips with these colorful, Free Exit Slip Labels! These are designed to make your speech room decor both fun and functional!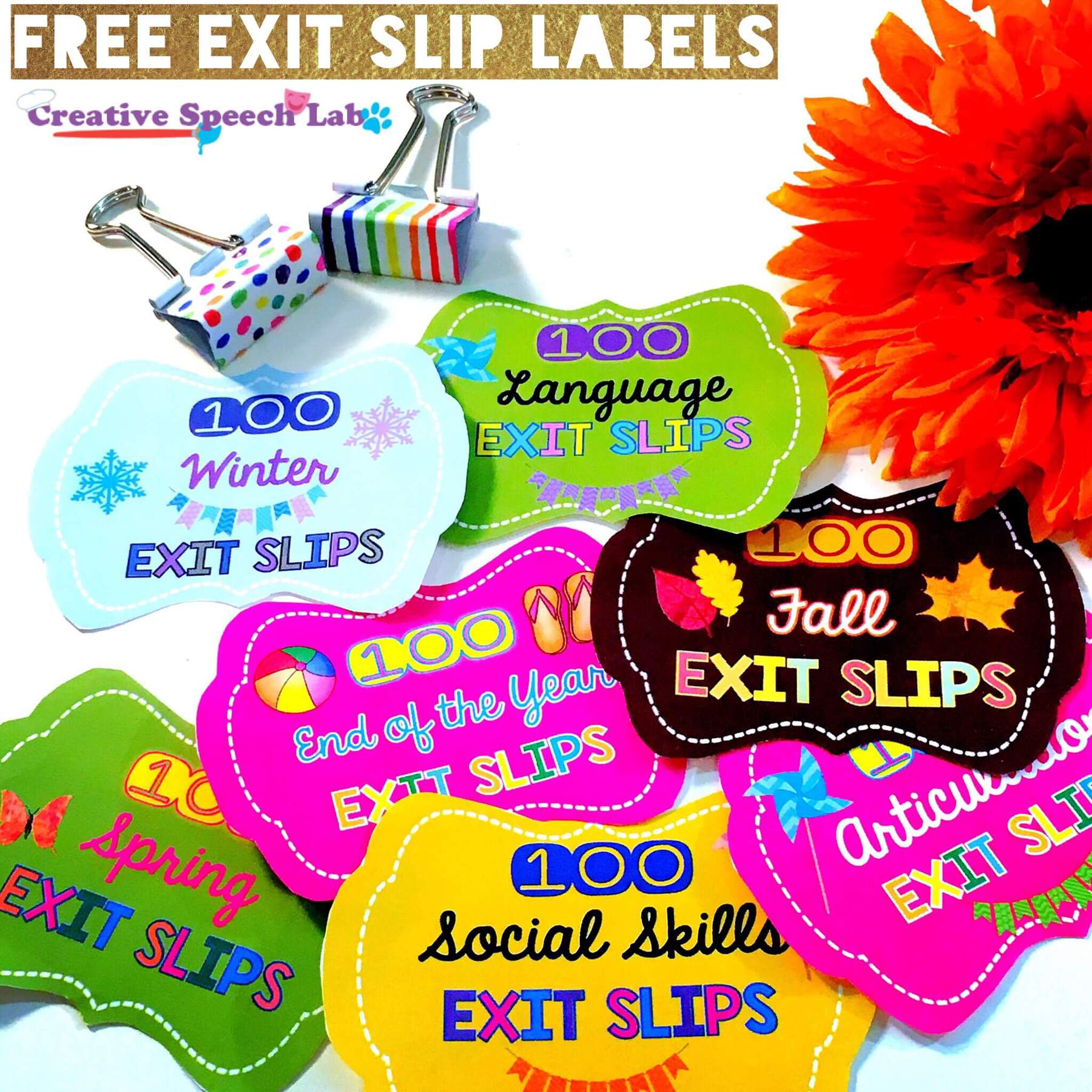 If you'd like to have the same experience as many other SLPs who shared their feedback below, you can save 30% with this exciting MEGA Bundle of 700 Exit Slips for Articulation, Language and Social Skills!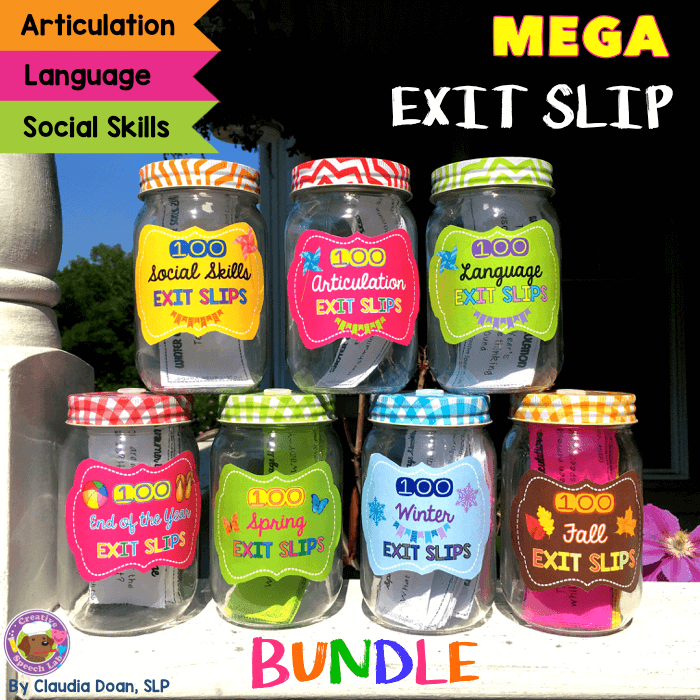 Here is some enthusiastic feedback from SLPs about Speech Therapy Exit Slips!
Love these – I printed them all, and added them to cute containers attached to my bulletin boards. My kids know to grab one from the appropriate container (artic, language, or social) to answer before leaving. My principal even noted it on my evaluation! Thumbs up! Thank you!
I originally purchased these for my district evaluation to fulfill one of the criteria but have actually loved implementing these in my sessions. Great resource!
This has added a new twist to my therapy and given my kids something fun to look forward to at the end of our sessions. I especially like the reflection ones when they need to think about something they learned during their therapy time. Great idea.
Do you use Exit Slips in speech therapy? If so, I'd love to hear about it!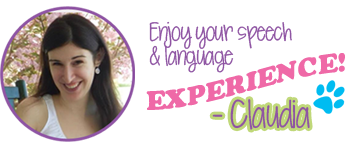 For more tips, freebies and inspiration, follow Creative Speech Lab on Teachers Pay Teachers, Facebook, Pinterest, Twitter, Instagram and Bloglovin'.
Cross, K. P. (1998). Classroom research: Implementing the scholarship of teaching. In T. Angelo (Ed.),Classroom assessment and research: An update on uses, approaches, and research findings (pp. 5–12). San Francisco: Jossey-Bass; and Ross, J. A., Hogaboam-Gray, A., & Rolheiser, C. (2002). Student self-evaluation in grade 5–6 mathematics: Effects on problem-solving achievement. Educational Assessment, 8(1), 43–59.