Today I'm linking up with Nicole Allison over at Allison's Speech Peeps to say a heartfelt "thank you" for your feedback.  Your thoughtful words and helpful suggestions are inspiring.  After sifting through all of your kind words, I have chosen one lucky winner to receive any product from my store!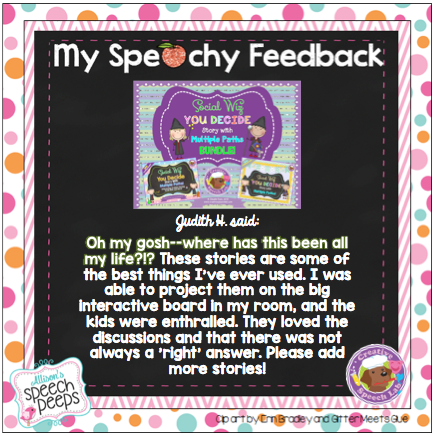 Thank you, Judith H. for your wonderful feedback about my Social Wiz You Decide Story with Multiple Paths Bundle!  Please e-mail me at creativespeechlab@gmail.com to receive a product from my store!
Thank you again to everyone who left feedback and keep it coming for your chance to be the next person to win an item from my TpT Store!
Be sure to check back at Allison's Speech Peeps to see if any other bloggers have selected you as a winner!
For creative tips, freebies and inspiration, follow Creative Speech Lab on Teachers Pay Teachers, Facebook, Pinterest, Twitter, Instagram and Bloglovin'.