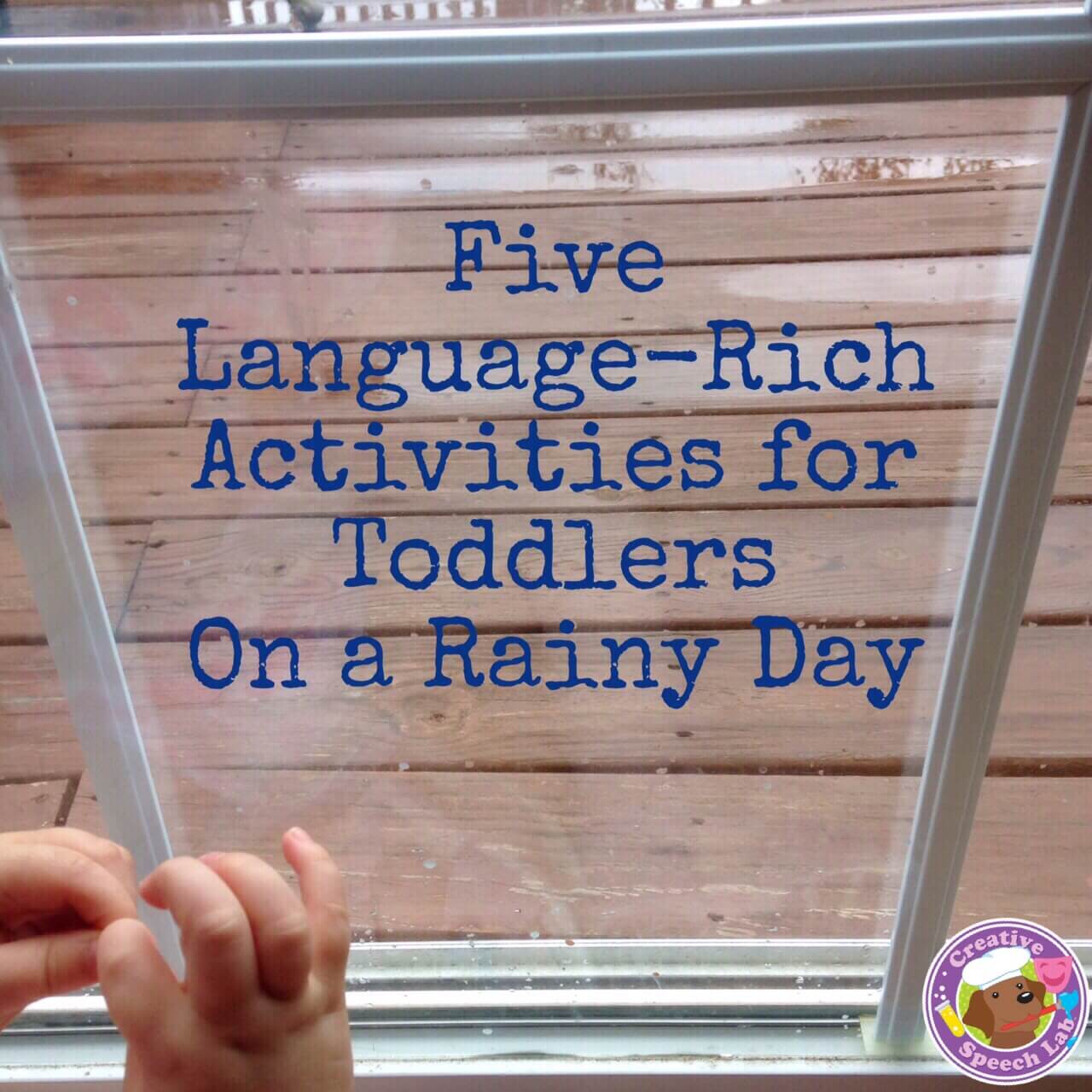 I'll let you in on a little secret.  Spending a rainy day indoors with a toddler can be fun!  It can also be language-rich at the same time.  Sound too good to be true?  I promise you it's true!  Here are a five fun ideas to try out.
1. Sing!
Children love singing (especially your singing…even if you don't think you have the best voice!) One of my favorite language-rich songs to sing and act-out is the rhyme "Two Little Blackbirds."
Two little blackbirds sitting on a hill,
One named Jack and one named Jill,
Fly away Jack, fly away Jill,
Come back Jack,
Come back Jill.
As you sing this song, use your hands to make your blackbirds "caw," fly away and come back! You can also increase your child's vocabulary with variations:
Two little blackbirds sitting on a cloud,
One named soft (soft voice) and one named loud (loud voice!)
Fly way soft, fly away loud!
Come back soft,
Come back loud!
Or
Two little blackbirds sitting in a muck,
One named free (let your hand fly freely) and one named stuck (pretend your hand is stuck),
Fly away free, fly away stuck!
Come back free, come back…stuck!
Children also benefit from hearing rain and weather-themed songs like Rain, Rain Go Away and How's the Weather?
2. Play with Laundry
What?  You mean laundry can be FUN?  It sure can!  To a toddler, that pile of laundry is a colorful world of soft surprises.  It's also packed with speech and language goodness. Teach object permanence, early developing sounds (p, b) and pronouns ("I see you") as you play peekaboo with a towel.  Model prepositions as you move over and under the towel tent.  Teach age-appropriate sounds and phases as you toss socks saying "go up" or "ready set…go!"  Describe the colors, shapes, sizes and textures of the laundry.  So much language fun!
3. Play hide-and-seek (or Peekaboo)
Hide-and-seek is a wonderful way to model prepositions.  You can keep it simple by hiding in one room.  Is your little friend behind the curtains, under the table, below the chair, next to the bookshelf, in the closet?  You get the idea!
4. Spend time in the kitchen
Play with pots, pans and spoons and describe their color, shape, size and function while you're at it!  As you prepare a snack, talk to your child about the color, texture, flavor and smell of the food!
5. Look out the window!
Talk about what you see as you look out the window.  This is a great way to model the language your child is interested in.  You can talk about the rain and how everything is wet or simply describe your surroundings.  Sometimes simplest activities are the most powerful.
I hope you enjoy sprinkling some speech and language into your next rainy day with your little one!
For more tips, freebies and inspiration, follow Creative Speech Lab on Teachers Pay Teachers, Facebook, Pinterest, Twitter, Instagram and Bloglovin'.