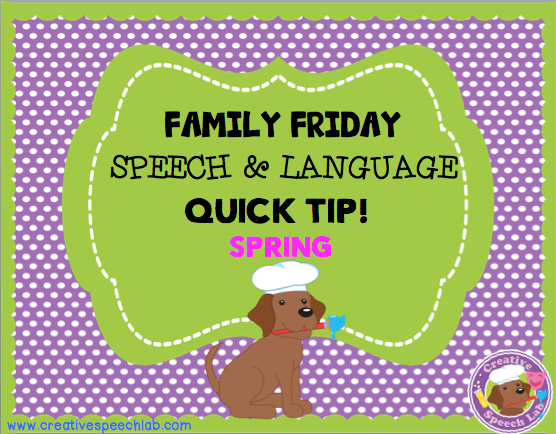 SPRING into speech with quick tips for these five age groups!
Infants: As you venture out into the sunshine, enjoy engaging in vocal play with your infant by emphasizing the beginning sounds in words such as "b-b-b bumblebee, bird and butterfly."  Sounds produced with the lips (i.e. b, p, m) are great because they're easy to see!
Toddlers: Talk about what you see outside to instill vocabulary in your curious toddler. Narrating what your toddler is doing is an excellent way to maximize language learning!
School-Age: Make a spring-themed snack together and discuss the color, shape, size, category and texture of the ingredients. You can download my free spring speech/language snack here!
Tweens: Plant some seeds and grow a few fruits, vegetables or flowers together.  Have your tween take an active role in the cognitive-linguistic tasks of planning, making predictions, cause-and-effect reasoning and sequencing events.
Teens: Plan a spring meal together from beginning to end!  Stroll around a Farmer's Market and discuss the seasonal ingredients sold there. Compare and contrast the Farmer's Market to the grocery store and discuss the attributes of seasonal spring offerings!
Happy Spring!
For more tips, freebies and inspiration, follow Creative Speech Lab on Teachers Pay Teachers, Facebook, Pinterest, Twitter, Instagram and Bloglovin'.