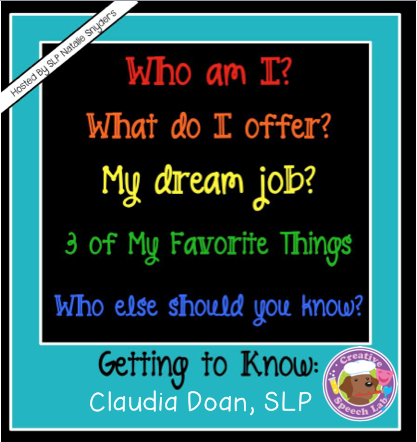 Special thanks to Natalie Snyders for hosting this linky party so we can all get to know our favorite online SLPs!
Who am I?
My name is Claudia Doan and I live in a small town in Connecticut with my husband and toddler. I've worked as a pediatric SLP since 2009 in school and clinic settings.
I'm super excited to be producing a new product with Northern Speech Services; a company that created some of my favorite products including the Expanding Expression Tool and Kaufman Cards!
What do I offer?
At the Creative Speech Lab, I offer ideas and materials that teach speech & language skills through creative learning experiences such as theater, art, cooking and "choose your own path" stories.  I have a background in drama therapy and the arts and have found that children are particularly motivated to learn through creative experiences!  I'm dedicated to providing resources that are innovative, creative and comprehensive.  You can find these materials at the Creative Speech Shop or my TpT Store.

My dream job?
Give me the time and resources to put creative ideas on paper and put me in a room full of kids and that's my dream job!  Helping children communicate and grow is the most rewarding job there is and I'm thankful every day to be in this profession.
3 of My Favorite Things
(1) Time with family, (2) Nature, (3) Singing and songwriting (I released my first original music album Stories on iTunes in 2013).  One of my song lyrics from the album is "the best things in life aren't things" and I just happened to notice there are no "things" on my list!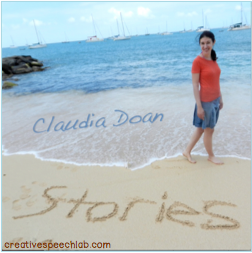 Who Else Should You Know?
There are truly so many wonderful SLPs online that it's tough to narrow it down to one!  I think you should check out Kathryn over at Teaching Talking.  She creates thoughtful and engaging materials. Her apraxia materials are particularly useful! She also has wonderful free products here!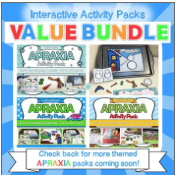 To get to know other SLPs, head back over to Natalie Snyder's linky party and enjoy!