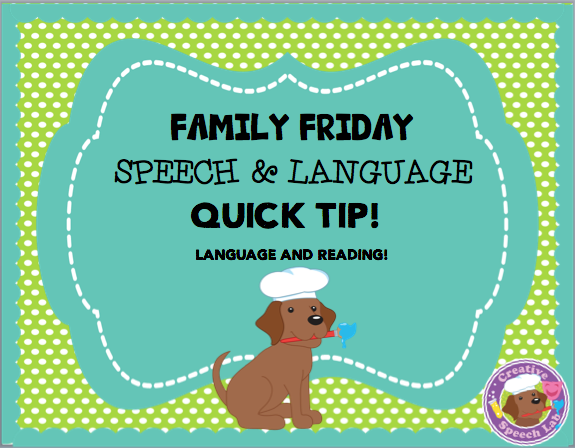 When I'm asked by parents what they can do for their child at home, I almost always mention reading and discuss ways books can be used to improve language skills, which is the topic for today's post!
Babies: It's never too early to read to your baby.  Your baby loves hearing your voice and will begin learning about the rhythm, sounds and cadence of language as you read.  Cloth books with a variety of textures offer a great way for infants to understand how to use books and develop basic concept knowledge.
Toddlers: As you read to your toddler, describe all of the pictures you see in addition to reading the text.  Your child is a sponge absorbing all the vocabulary you're modeling.
Primary Grades: Believe it or not, wordless picture books offer rich language opportunities.  Your child will work on narrative language, vocabulary, grammar, pronouns and more as he or she describes the pictures and tells the story.
Secondary Grades: Ask WH Questions (i.e. who, what, when, where, why) as you read.  This will not only improve your child's reading comprehension but it will also allow your child to organize his or her language to correctly answer your questions.
Tweens: Help your tween read between the lines as you work on inferences.  Ask him or her to identify how characters are feeling as well as what might happen next and why.
Teens: Your teen can acquire more sophisticated language skills as you read and discuss a chapter book together.  Talk about the author's use of imagery, compare and contrast characters and make text-to-self connections!
I hope you enjoy exploring the magical world of reading and language with your child!
For more tips, freebies and creative learning materials, follow Creative Speech Lab on Facebook, Pinterest, Twitter, Instagram and Bloglovin'.