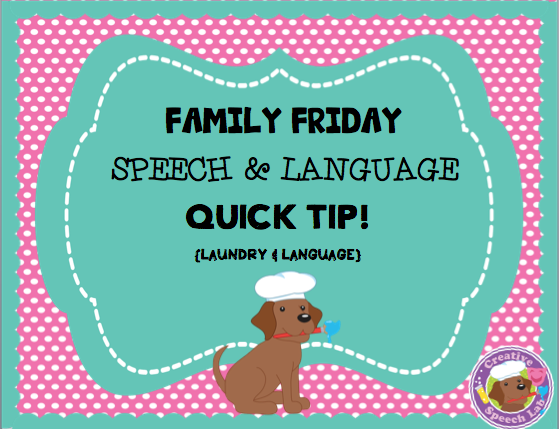 Believe it or not, there is a load of language in your load of laundry!  There are many skills you can playfully target as you sort, fold and put away those shirts and socks with a child of any age!
Babies:  Play "Laundry Peekaboo" by hiding behind a towel or clothing item.  This fun game teaches infants object permanence and social communication as they engage in joint attention, establish eye-contact and understand that communication is reciprocal.
Toddlers:  Turn your socks into puppets and model speech sounds, social greetings (i.e. "Hi! How are you?") and new vocabulary.  If your child says a word, have your sock puppet playfully put it in a sentence, which can help him or her combine words and increase utterance length. 
Older Tots:  Work on categorizing by asking your child to help you sort laundry into various piles (e.g. pants, shirts).  You can also model possessive pronouns as you designate items to different people (e.g. "yours, mine").
School-Age:  Play an "I Spy" vocabulary laundry guessing game as you take turns describing and guessing various laundry items based on their attributes (i.e. color, shape, size, texture etc.).
Tweens:  Have a category sock fight!  Each time you throw a sock, you must name an item in a chosen category (e.g. round objects, zoo animals, crunchy foods). 
Teens:  Many would say that getting a teen to do the laundry is an accomplishment in and of itself! If this miracle should occur, it's a great opportunity to simply communicate together and enjoy a meaningful conversation.
I hope you enjoy discovering the speech and language possibilities hidden within this seemingly mundane chore!
For more tips, freebies and creative learning materials, follow Creative Speech Lab on Facebook, Pinterest, Twitter, Instagram and Bloglovin'.