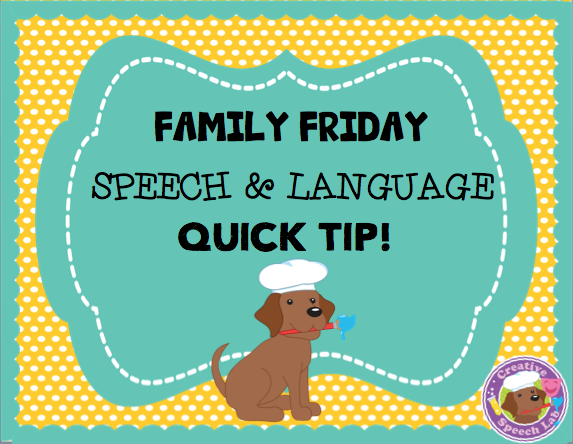 This Friday, we will be focusing on building speech and language around food!
-Babies: Emphasize beginning sounds in words which may lead to vocal play! (e.g. ba-ba-ba-banana!)
-Toddlers: Instill a variety of vocabulary words in your toddler as you narrate your actions related to food (e.g. "I'm peeling my yellow banana!"- pronouns, verbs, adjectives).
-Older Tots: Talk about the attributes of your food (e.g. "the banana is a yellow (color), crescent (shape), fruit (category) that is sweet (taste) and smooth (texture)."
-School-Age: Compare and contrast foods (e.g. How are bananas the same as apples? How are they different?)
-Tweens: Teach quantitative language concepts (e.g. more, less, half) as you cook together and measure ingredients.
-Teens: Make predictions as you plan a menu and outline the steps needed to make a meal.
-Enjoy meals at the table together! Here your child will learn valuable social communication skills at any age!